Trump says US not going into Syria, calls Assad 'an animal'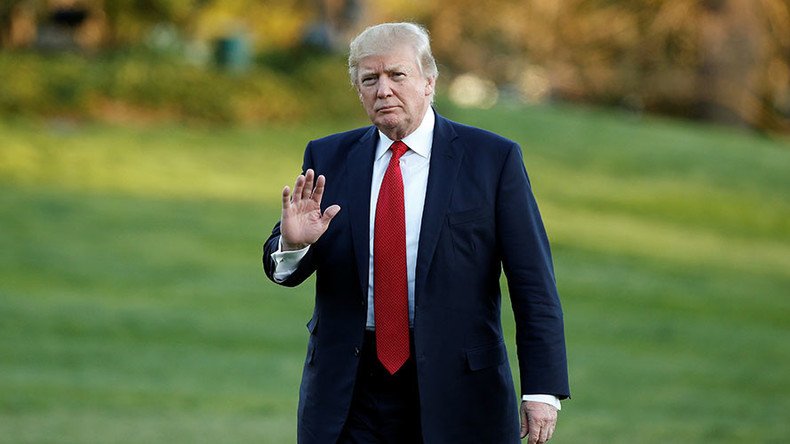 President Donald Trump has called Syria's president an "animal," accusing him of attacking his own people with chemical weapons, However, despite the missile strike Trump ordered in response, he told Fox News that the US is not going to war there.
"Are we going to get involved in Syria? No," Trump told TV host Maria Bartiromo during an interview on FOX Business.
"But if I see them using gas…. when you drop gas or bombs or barrel bombs — massive barrels with dynamite — and drop it right in the middle of a group of people ... you see kids with no arms, no legs, no face. This [Syrian President Bashar Assad] is an animal," he added.
He claimed that even "some of the worst tyrants in the world don't use the kind of gas they use."
Trump says he immediately called US Defense Secretary James Mattis after reports emerged about the incident in Idlib province.
"I said 'What can we do?' And they came back with a number of different alternatives. ... We hit them very hard," he said.
The US has repeatedly accused Moscow of supporting Assad, claiming that Russia bears part of the responsibility for his actions.
"Putin is backing a person that is truly an evil person […] I think it's very bad for Russia, I think it's very bad for mankind, it's very bad for this world," Trump added.
On April 7, the US fired 59 Tomahawk cruise missiles at the Syrian Army's Shayrat Airbase. The strike was ordered by Trump in response to an alleged chemical attack in the town of Khan Shaykhun that occurred on April 4.
The Syrian Army slammed Washington's attack as "blatant aggression," claiming that it makes the US a partner of Islamic State (IS, formerly ISIS/ISIL) and other terrorist organizations.
On Tuesday, Russia, which has repeatedly condemned the strike, questioned the precision and cost-effectiveness of the attack.
"The statistics cited by the Pentagon on the supposed high efficiency of the massive missile strike at the Shayrat airbase were created for the American public, not specialists," Russian Defense Ministry spokesman Major General Igor Konashenkov said in a statement.
READ MORE: Assad's fate 'to be decided by Syrian people,' says Tillerson
In the meantime, the White House has been sending mixed signals concerning Syria and Assad. Earlier in April, US Secretary of State Rex Tillerson hinted that Assad's resignation, which the Obama administration considered a prerequisite for settling the Syrian crisis, was no longer of interest to Washington.
"I think the... longer term status of President Assad will be decided by the Syrian people," he said.
READ MORE: Confused over Team Trump's Syria 'regime change' flip-flops? You're not alone (POLL)
However, just days after the suspected chemical attack, Tillerson signaled a change of heart, saying "steps are under way" to form an international coalition that would seek to remove the Syrian president from power.
"Assad's role in the future is uncertain and, with the acts that he has taken, it would seem that there would be no role for him to govern the Syrian people," he told a press briefing on April 6.
READ MORE: US 'spare Nusra for plan B' to change regime in Syria – Lavrov
Russia has repeatedly stated that it wants to see a peaceful solution for the Syrian conflict.
You can share this story on social media: