Assad's fate 'to be decided by Syrian people,' says Tillerson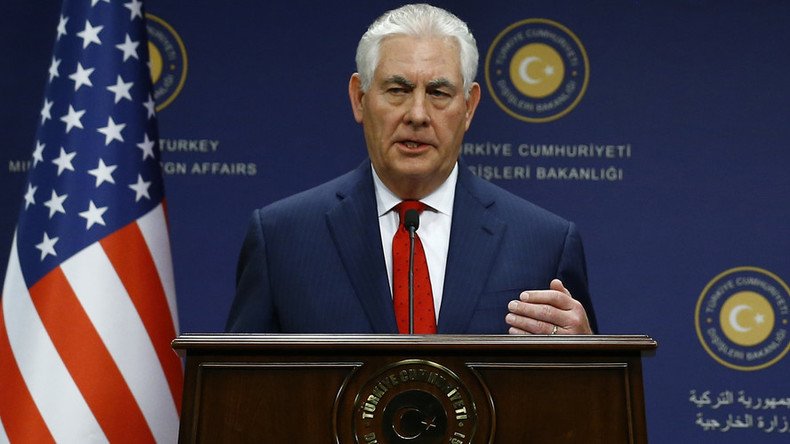 At a news conference in the Turkish capital, US Secretary of State Rex Tillerson appeared to suggest the end of Bashar Assad's presidency was no longer a prerequisite for a way out of the Syrian crisis, in a U-turn from Washington's long-held policy.
"I think the ... longer term status of President Assad will be decided by the Syrian people," said Tillerson at a joint conference with Turkish Foreign Minister Mevut Cavusoglu on Thursday, AFP reported.
Under President Barack Obama, the United States made Assad's departure one of its key objectives. The Syrian armed opposition also insisted upon the longtime leader's resignation as one of the conditions during the Astana peace talks.
Letting Syrians decide the fate of President Assad has been Russia's stance since the conflict began. Moscow has repeatedly rebuffed any preconditions for Assad to step down before a political settlement of the crisis.
"The UN Security Council resolution and various decisions on Syria, adopted since 2012 with our proactive involvement, contain no demand or hint that Syrian President Bashar al-Assad must resign. On the contrary, they say that the people of Syria alone have a right to decide their future, and that the political process should involve all forces of Syrian society without exception, including ethnic, political forces, religious denominations and all opposition groups," Russian Foreign Minister Sergey Lavrov said in a 2016 interview.
Tillerson added that there were no major disagreements between Turkey and the US over the NATO allies campaigns against Islamic State (IS, formerly ISIS/ISIL).
"There's no space between Turkey and the US and our commitment to defeat Daesh [Arabic acronym for IS], to defeat ISIS," he said.
However, this was met with disagreement from Cavusoglu, who complained about US support for the Syrian Kurdish YPG militia, considered a terrorist group by Ankara.
"It is not good or realistic to work with a terrorist group while fighting another terrorist group," Cavusoglu said, adding that Turkey expected "better cooperation" with the US over this issue.
Turkey said it is interested in supporting the operation to take the IS stronghold of Raqqa, but not if the Kurdish militia is involved, AP reports.
The Turkish authorities consider the YPG, or the People's Protection Units, to be a Syrian faction of the Kurdistan Workers Party (PKK), a banned Kurdish movement that has been fighting for autonomy in southeastern Turkey since the 1980s.
Hundreds of thousands of people have been killed since the Syrian conflict erupted in 2011. It is being fought between the Syrian government and opposition forces which include both extremist Islamists and so-called 'moderate' groups. The war has put additional strain on Europe's ongoing migrant crisis, as millions of refugees from Syria join other asylum seekers making their way across the Mediterranean.
Years of negotiations between the Syrian government and opposition, as well as representatives from Moscow, Washington, Tehran, and other powers, have failed to bring an end to the Syrian crisis. The Astana talks launched in January, which hoped to bring all the key sides to the negotiating table, have stalled since the Syrian opposition pulled out in mid-March.
You can share this story on social media: