Border crossings over Rio Grande dry up as Trump's wall looms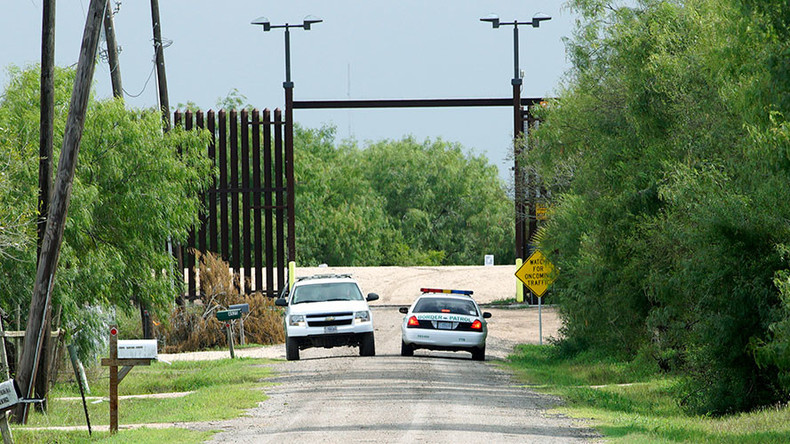 President Donald Trump's "big, beautiful wall" along the border with Mexico is still on the drawing board, but the flow of immigrants has already slowed down to a trickle. Arrests along the border in March were the lowest in 17 years.
There were fewer than 12,000 people arrested while attempting to cross the border illegally in March 2017, a 64 percent decline from the same time last year, according to US Customs and Border Protection (CBP). The number of families and unaccompanied minors has likewise dropped to 37 a day in March, down from 291 a day in January.
"This area used to be really hot," Marlene Castro, a Border Patrol supervisor, told the Los Angeles Times while driving through the wilderness along the border between Hidalgo and McAllen, Texas.
"You couldn't move. Every time you turned a corner, you'd run into group after group," she added.
Castro has worked for the CBP for almost 20 years and insists the agency is not doing anything differently. Trump's executive orders, issued in January, simply have the CBP enforcing the laws already on the books, she told the LA Times.
"The president's actions are seeing results," White House spokesman Sean Spicer told reporters in Washington on Monday, bringing up the drop in illegal immigration.
Trump campaigned on the promise to take control of the southern US border and build a wall at Mexico's expense – something President Enrique Peña Nieto has refused to do. Within a week of Trump's inauguration, Nieto canceled a planned trip to Washington.
Critics say the wall is physically impossible and environmentally problematic. According to last week's Associated Press-NORC poll, 58 percent of Americans oppose new government spending for the wall, and nearly half say they "strongly oppose" the project.
It appears, however, that the mere promise of the wall is deterring illegal border crossings.
"There's a perception that it's going to be very difficult for immigrants to cross into the US and stay in the US," Guadalupe Correa-Cabrera, professor at the University of Texas Rio Grande Valley, told the LA Times. "It makes them think twice because the commitment is too big."
Migrants from Central American countries have been paying smugglers, known as "coyotes," up to $11,000 to lead them across the border.
"Are you going to risk a 1,000-mile journey and pay $8,000 to be smuggled if you're not sure you'll get to stay?" Castro said. "I wouldn't."
Testifying before the Senate Homeland Security and Governmental Affairs Committee last week, Homeland Security Secretary John Kelly said the wall may not extend "from sea to shining sea," but that a physical barrier can and will be put up in particular spots along the border.
Manuel Padilla, chief of the Border Patrol's Rio Grande Valley sector, agrees.
"We need the wall – or wall-and-fence combination, whatever that ends up looking like – in order to stop the people from coming over," he told the LA Times. "People will say 'Well, it doesn't stop people.' But it slows it down in order for us to be able to respond."
Attorney General Jeff Sessions is scheduled to tour the border in Nogales, Arizona on Tuesday.
You can share this story on social media: