Wall needed but won't run 'from sea to shining sea,' DHS chief tells Senate
Published time: 5 Apr, 2017 20:34
Edited time: 6 Apr, 2017 11:00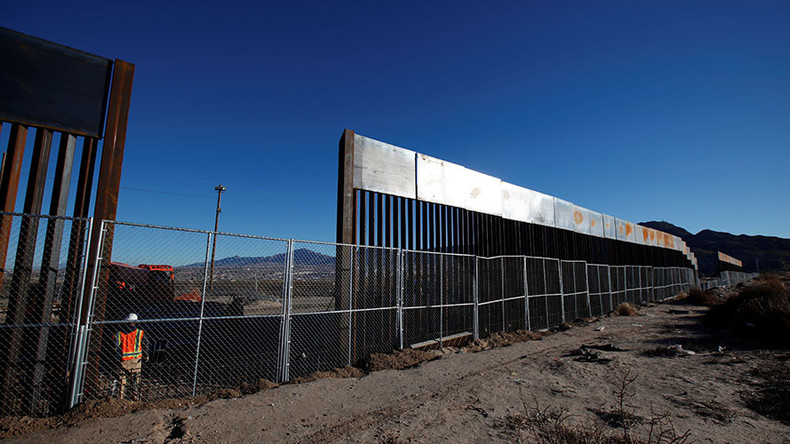 President Donald Trump's border wall is unlikely to stretch from one coast to the other, but it needs to be built to ensure the already significant drop in illegal border crossings becomes permanent, Homeland Security Secretary John Kelly told senators.
"We've seen an absolutely amazing drop" in the number of people attempting to cross the southern border illegally and getting detained by Customs and Border Patrol, Kelly told the Senate Homeland Security and Government Affairs Committee on Wednesday. There were fewer than 17,000 arrests in March, compared to more than 58,000 in December 2016, a decline of 71 percent.
That won't last unless the border wall is built, Kelly said.
"It is unlikely we'll build a physical barrier from sea to shining sea," he told the senators at one point, but the border patrol has identified spots where such a barrier is absolutely necessary. "Physical barriers do work if they're put in the right place."
Kelly, a retired Marine Corps general who used to be in charge of the US Southern Command, described the migrants as "overwhelmingly nice people" migrating in search of economic opportunity and to escape "astronomical" rates of violence in places such as Honduras.
Kelly personally appealed to political, community and religious leaders across Central America to dissuade their people from migrating north. Men doing so were in danger of getting drafted by Mexican drug cartels, while women risked getting sexually assaulted at least once, he said.
Senators were more concerned about a recent report of customs agents asking to inspect travelers' phones for photos and social media content, which happened to some 25,000 people last year. Kelly claimed that about 1 million people enter the US every day, so the practice impacts half of 1 percent of travelers, and has turned up pedophiles and terrorist sympathizers.
"This is not routine, it's done in a very small number of cases," he said. "But if there is a reason to do it, we will in fact do it."
Senators Claire McCaskill (D-Missouri) said her "hair's on fire" about the issue, while Rand Paul (R-Kentucky) was incensed that this could affect US citizens and "green card" holders, and has actually proposed a law that would block the practice.
Sen. Heidi Heitkamp (D-North Dakota) asked about the practice of separating children from their mothers, also reported recently in the US media.
"Only if the situation at that point in time requires it," Kelly answered, citing the example of the mother being sick or addicted to drugs, and saying the practice mirrors that of US law enforcement.
Sen. Kamala Harris (D-California), asked if Kelly had issued any written orders that he could submit to the committee.
"I don't need to do that," Kelly replied, noting that his staff has been given verbal instructions they have then passed on down the line.
Harris also asked about immigration agents arresting immigrants at courthouses, citing reports from some law enforcement agencies about the "chilling" effect it had on victims and witnesses of crime.
"I have heard some number of law enforcement say that. But I've always heard the opposite view," Kelly replied.
When Harris tried to pin him down on the seven priorities the DHS has previously enumerated to the Senate, Kelly said the agents' starting point "is illegal status, and then something from the priorities" and that no further training was required.
Harris then asked Kelly if he'd read the 2016 report about how DHS had the lowest morale of all the major departments in the US government.
"That was certainly the case under the Obama administration," Kelly shot back. What has made the difference since is "my leadership" and that the agents are now "allowed to do their job, like the professionals they are," he added.
California is currently considering a bill that would make the entire state a "sanctuary," with the authorities shielding illegal immigrants from federal agents. Harris served as California's attorney-general before getting elected to the US Senate last November.