Invisible, polished, solar walls among bids for Trump's border wall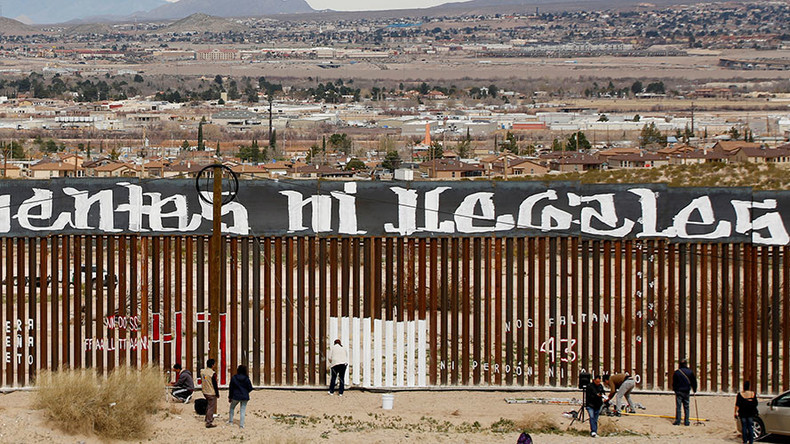 The deadline for bids for President Donald Trump's multi-billion dollar border wall with Mexico has passed. The federal government will ask four to 10 bidders to build prototypes in San Diego.
US Customs and Border Protection declined to identify or say how many there were that met Tuesday's deadline for bids, according to the AP.
It is standard practice not to share details on those bidding on government contracts but the federal government is expected to announce around June 1 which companies will be hired to build prototypes.
A federal database showed around 200 companies responded to the government request, according to the Washington Post last week.
Despite the blackout, a few construction companies have been forthcoming about their designs.
Concrete Contractors Interstate proposed a 30-foot polished concrete wall augmented with stones and artifacts that are tailored to different sections of the 2,000 mile border.
"The ideas is to make the wall a piece of art," Russ Baumgartner, chief executive officer at the San Diego-based company told The San Diego Union-Tribune.
Gleason Partners LLC of Las Vegas is pushing a solar panel version which would generate 2 megawatts of electricity an hour.
"For the younger generation, they say if there is going to be a wall, let's have it be green," said Gleason Managing Partner, Thomas Gleason.
The government is seeking in its specifications published on March 17, designs for 30 feet tall, made of concrete, and tamper-proof from a sledgehammer or Oxy/acetylene torch, plus designs for two chain link fences, and aesthetically pleasing.
Another bid proposal comes from an army veteran who served in Iraq and Afghanistan, James Carpenter, owner of Quantum Logistics in Misson, Texas. He submitted designs for a concrete wall and for one made of other strong materials to protect the barrier from a car bomb or suicide vest with seismic sensors and drones to secure the barrier.
"Everybody else looks at this as a construction project," Carpenter told the Los Angeles Times. "I look at this from a security standpoint."
The Department of Homeland Security has estimated the 1,000-mile wall would cost $21.6 billion, nearly double of what Trump's campaign has cited.
Trump's first budget proposal to Congress, a preliminary draft, asked lawmakers for a $2.6 billion down payment for the wall. Congressional Republicans have estimated a more moderate price tag of $12 billion to $15 billion.
Apart from the cost of the wall, the geography where the wall will be built has treaty limitations. A 1970 treaty with Mexico requires that anything built near the Rio Grande river not obstruct its flow, and the same treaty rules apply to where the Colorado River flows on the border in Arizona.
There are also environmental regulations over what can be built and where — such as sensitive dunes in California that require a "floating fence" to allow for the natural movement of sand. There are also legal challenges. Nearly all the land along the Texas border is privately owned and buying it won't be easy, according to AP.