Mexican president cancels US trip over border wall spat with Trump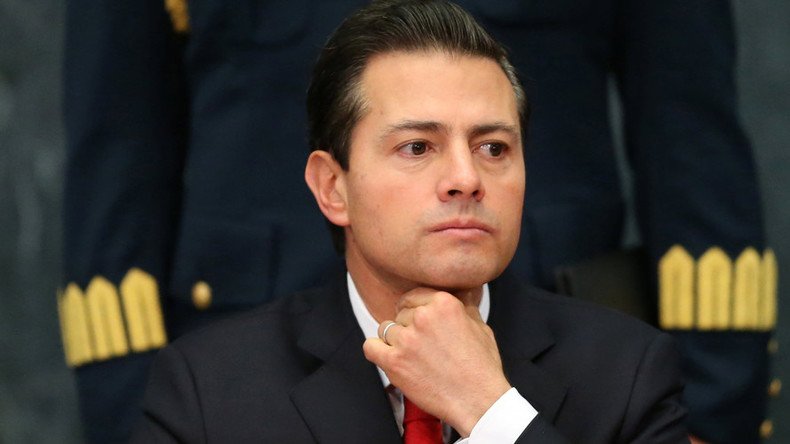 President of Mexico Enrique Peña Nieto has canceled his trip to Washington, following US President Donald Trump's order to begin construction on the border wall between the two countries.
"This morning we have informed the White House that I will not attend the meeting scheduled for next Tuesday with the [President of the United States]," Nieto announced via Twitter.
Esta mañana hemos informado a la Casa Blanca que no asistiré a la reunión de trabajo programada para el próximo martes con el @POTUS.

— Enrique Peña Nieto (@EPN) January 26, 2017
The announcement follows Trump's tweet earlier on Thursday saying that "If Mexico is unwilling to pay for the badly needed wall, then it would be better to cancel the upcoming meeting."
Mexican officials were "stunned" by Trump's tweets, AP reported. Jorge Castaneda, former foreign minister (2000-2003), told local media that Nieto "has no other choice but to say 'I'm not going'."
On Wednesday, Trump signed executive orders to begin preparations for construction of the wall along the Mexican border – one of the new president's key promises from the electoral campaign.
The orders also beefed up the US Border Patrol and Immigration and Customs Enforcement, and instructed the administration to cut federal funding for "sanctuary cities" that refused to hand over illegal immigrants to law enforcement.
Trump has insisted that "Mexico would pay for the wall," while the Mexican government has rejected any suggestion of doing so.
"I regret and condemn the decision of the United States to continue construction of a wall that, for years, has divided us instead of uniting us," Nieto said in a brief televised message to his nation on Wednesday. Mexico "will not pay for any wall," he said.
WATCH MORE:
You can share this story on social media: