Trump threatens to cancel President Pena Nieto meetings if Mexico refuses to pay for wall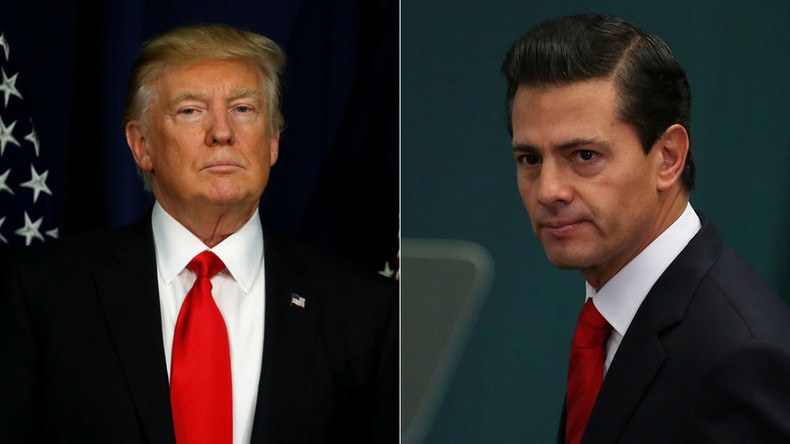 US President Donald Trump says that if Mexico won't pay for the wall between the two countries aimed at curbing the flow of illegal migrants into America, "it would be better" to scrap the planned meeting with Mexico's leader.
"If Mexico is unwilling to pay for the badly needed wall, then it would be better to cancel the upcoming meeting [with Mexico's President Enrique Pena Nieto]," Trump tweeted.
On Wednesday, Trump signed orders to stem illegal immigration from Mexico and secure US border. Building a wall between the two states (as repeatedly promised during his election campaign) is a key part of the strategy.
Though the US would initially pay for the construction, Trump vowed that Mexico will have to compensate the entire expenditures.
The plan did not sit well with the Mexican leader.
"I regret and condemn the decision of the United States to continue construction of a wall that, for years, has divided us instead of uniting us," Nieto said in a brief televised message to his nation.
Nieto stressed that his country "will not pay for any wall."
As a result, the Mexican president is also now considering the cancelation of the meeting with Trump scheduled for next week. However, according to his foreign minister, Luis Videgaray, "The meeting stands for now."
The US House of Representatives Speaker Paul Ryan (R-Wisconsin) told MSNBC that the Congress is ready to fund the construction of the wall. He also noted that "there are a lot of different ways of getting Mexico to contribute to doing this." As of now, the forecast cost of the project ranges between $8 billion to $14 billion, Ryan said.
House and Senate Republicans are moving ahead with allocating between $12 billion and $15 billion to build the wall, Ryan and Senate Majority Leader Mitch McConnell (R-Kentucky) told reporters on Thursday. Asked if they were concerned about US-Mexican relations, Ryan responded, "I think we'll be fine."
If constructed, the envisioned wall would be 2,000 miles (3,200km) long.