AG Sessions scraps forensic science panel, suspends FBI testimony review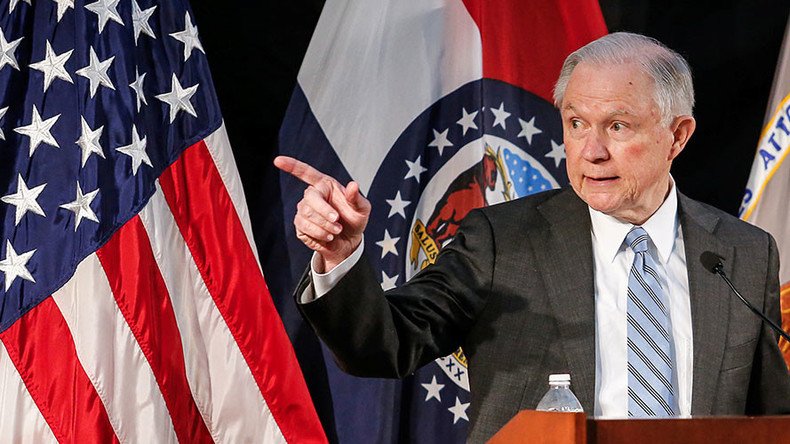 US Attorney General Jeff Sessions has ordered an end to an independent panel that sought to raise scientific standards in forensics and has suspended a Justice Department review of systemic flaws in FBI forensic expert court testimony.
On Monday, just before the panel's expiration date, Sessions announced that he would not renew the National Commission on Forensic Science – a partnership between the US Department of Justice (DOJ) and the National Institute of Standards and Technology. The commission, which aims to "improve the reliability of forensic science," is made up of about 30 scientists, judges, prosecutors, defense attorneys, law enforcement officials and forensic experts on the federal, state and local levels.
"The availability of prompt and accurate forensic science analysis to our law enforcement officers and prosecutors is critical to integrity in law enforcement, reducing violent crime, and increasing public safety," Sessions said in a statement. "We applaud the professionalism of the National Commission on Forensic Science and look forward to building on the contributions it has made in this crucial field."
To replace the commission, Sessions will appoint a senior forensic adviser and institute an internal DOJ crime task force, the attorney general said in statement, first reported by the Washington Post.
The panel is set to have its last meeting this week in Washington ahead of the final day of its term, on April 23. The commission has an outstanding recommendation that the DOJ set standards for the examination and reporting of forensic evidence in criminal court cases, but the DOJ has yet to accept the suggestion, the Post reported.
The commission was established as a result of gradual scientific revelations that posed serious questions about the validity of traditional, much-relied-upon forensic practices and their application to court cases as well as the lack of standards and funding for relevant labs.
For instance, achieving "absolute" proof involving pattern evidence such as a bitemark or chemical analysis of a bullet had long been considered reliable, though only DNA evidence has been proven statistically reliable.
Late last week, six research scientists on the panel called for the commission's renewal based on its "positive and indelible impact on the criminal justice system."
"Historically, the community associated with forensic science was limited to criminal justice participants, sometimes at the expense of foundational science," the group said in a letter to Sessions, adding that these past limitations have contributed to a "disconnection between the fundamental principles of science and some forensic disciplines."
In January, however, the full commission recommended, in a 16-15 vote, against its own renewal, the Post reported.
The commission successfully lobbied for initiatives to examine regular forensic techniques for their validity, including the veracity of pattern evidence involving the likes of fingerprints, firearms and bitemarks. The Obama administration also heeded the panel's call for new accreditation and ethics codes for forensic labs and practitioners, the Post reported.
"[I]t is unrealistic to expect that truly objective, scientifically sound standards for the use of forensic science … can be arrived at by entities centered solely within the Department of Justice," said US District Judge Jed S. Rakoff of New York, the only federal judge on the panel.
The National District Attorneys Association said it supports the end of the commission, calling instead for an internal DOJ office on forensic matters, the Post reported.
Flawed FBI forensic reviews
The types of reviews of forensic science done by the commission were especially important considering reports in recent years that revealed systemic flaws in forensic testimony by none other than the FBI.
In 2014, the FBI, shocked by its own findings, halted for a year its review of flawed testimony given by FBI forensic experts in thousands of cases in recent decades involving microscopic hair matches.
The review began following a Post report in 2012 over possibly-botched testimony given by FBI lab technicians that may have led to convictions of hundreds of innocent people, including some people who were sentenced to death. Most of these cases occurred during an era before DNA testing in which the FBI's hair and fiber unit claimed to have found a solid match to crime-scene samples.
Yet this mass review of FBI testimony and forensic practices, which began again sometime in mid-2014, according to the Post, was suspended in Sessions' Monday order. The internal DOJ task force will help devise a strategy to proceed, a Trump administration official said, according to the Post.
"We plan to consider all options," Associate Deputy Attorney General Andrew D. Goldsmith said, adding that Sessions believes "good forensics is not only important because it enables us to convict the guilty, but also to clear the innocent."
DNA evidence has helped exonerate nearly 350 people in 37 states across the US, according to the Innocence Project. Two-thirds of those exonerees were African-Americans, while 20 of them were on death row.
You can share this story on social media: