Outnumbered & outgunned: Miami detectives ambushed while stalking alleged gang members
Published time: 28 Mar, 2017 17:25
Edited time: 29 Mar, 2017 09:11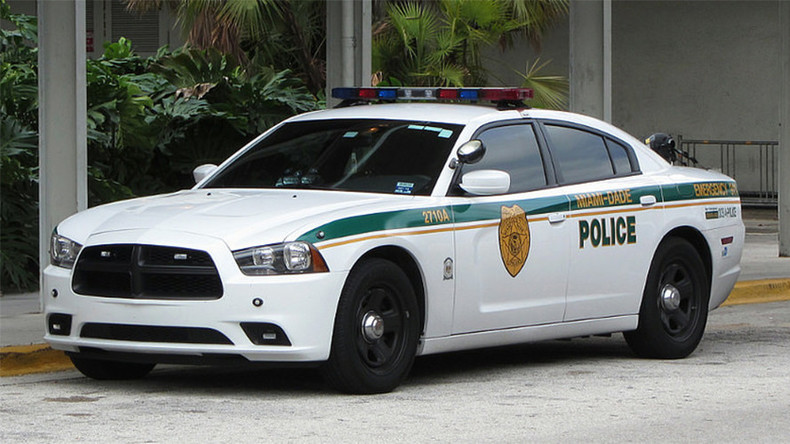 Two Miami-Dade police detectives who followed a "suspicious" car into a Miami housing project while on gang detail were shot in their unmarked van. One is in stable condition, while the other has been released. The six ambushers remain at large.
Plainclothes detectives Charles Woods and Terence White – a 26-year and an 11-year veteran of the Miami-Dade Police Department, respectively – followed a car into the Annie Coleman projects of the city's Brownsville neighborhood, according to the Miami Herald. At about 10pm EST on Monday, a group of six men walked past the detectives while they sat in their vehicle. Once past the van, the men turned and opened fire on the them.
One detective was grazed by a bullet, while the other was shot in the leg. They were rushed to the Ryder Trauma Center at Jackson Memorial Hospital in the back of a pickup driven by fellow officers who were near the scene at the time of the shooting, the Herald reported. Miami-Dade police said Woods has been released from the hospital.
"They were outnumbered and outgunned," said John Rivera, president of the Police Benevolent Association, adding "God was watching over them tonight."
Rivera said one of the detectives returned fire amid the ambush, though it is unknown if he hit anyone. The detectives were part of the Homicide Task Force-Gang Unit, according to Miami-Dade Police Director Juan Perez.
The men who fired on the detectives fled the scene and have not been found, according to reports. From Monday night into Tuesday morning, hundreds of police officers, SWAT team members and K-9 officers combed the Annie Coleman projects.
Residents of the housing project, dubbed "the Rockies," said police conducted a unit-by-unit search, pulling residents from their apartments to look for the shooters. Adding to the "straight chaos," as one resident put it while speaking to the Herald, was a power outage that began in the area shortly before the shooting. Power returned around 8:00am on Tuesday.
"The power went off an hour before the shooting started, like somebody had to cut the power to do what they were going to do," said one resident.
Miami-Dade police said "the scene remains active."
"These individuals not only shot at these officers and struck our police officers: These individuals are causing havoc in our community. Causing chaos in people's lives. Putting people below the ground," Perez said in calling for the public's assistance in apprehending the shooters.