Miami cops fired after 'joking' about using black neighborhood as target practice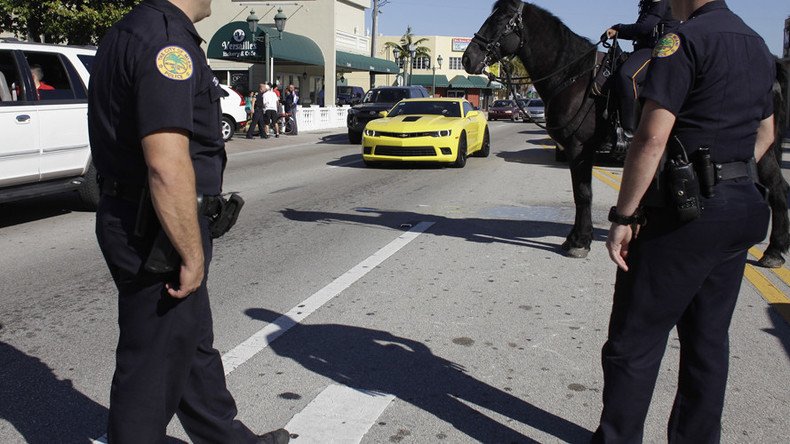 Three rookie police officers were fired just before days Christmas after joking in chat logs about using Miami's black neighborhoods as a shooting range, according to an internal investigation.
"Anyone know of an indoor shooting range in Miami?" one officer asked in a WhatsApp group chat, according to a story first reported by the Miami Herald.

"Go to model city they have moving targets," replied Kevin Bergnes.

"There's a range in overtown on 1 and 11. Moving targets and they don't charge," added Miguel Valdes.
Overtown is the name of a predominant black neighborhood, just northwest of downtown Miami. It was originally called Colored Town during the Jim Crow era of the late 19th through the mid-20th century.
Officers Bergnes, Valdes and Bruce Alcin told an investigator they were "joking," according to investigation documents, obtained by the Miami Herald.
But the social media chat upset a colleague and the three officers were fired two days before Christmas.
Stephen Lopez, an attorney for the officers, said the remarks were taken out of context and that there was no misconduct.
Lopez told the Miami Herald his clients were not racist as Alcin is African American, and Valdes has a black grandfather.
He said that the officers plan to sue the city because it discriminated against them.
It is not the first time that Miami police officers have been embroiled in a racial profiling scandal.
In January 2015, a National Guard Sergeant paid a visit to a shooting range in Medley, Florida and found North Miami Beach Police had been doing shooting drills using mug shots of six black males as targets.
To make matters worse, Valerie Deant recognized one of the images as her brother, Woody.
About 15 years earlier, Woody Deant had been arrested over his involvement in a drag racing incident that left two people dead. Deant, whose image at the firing range had been sprayed by bullets, had spent four years behind bars.
North Miami Beach Police Chief J. Scott Dennis defended the actions of his officers, some of whom he said are minorities themselves. Dennis said his department also uses images of whites and Latinos for target practice.
"Our policies were not violated," the police chief was quoted by NPR as saying. "There is no discipline forthcoming for the individuals who were involved with this."
He admitted, however, that the officers could have exercised better judgment, because one of the men, Woody Deant, "would be someone that was on the streets of North Miami Beach."
Two years prior in April 2013, a Florida policeman lost his job for using photos of Trayvon Martin, the young black man who was shot and killed last year by a neighborhood watchman, for target practice.
You can share this story on social media: