Satanic Temple launches school anti-spanking campaign in Texas (PHOTO, VIDEO)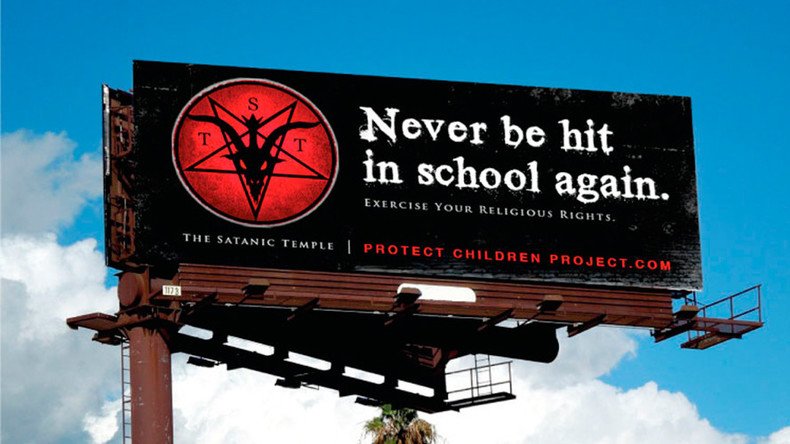 The growing number of Satanic Temple followers have been making their presence felt across America and are now campaigning to outlaw corporal punishment in schools.
The organization this week unveiled a huge billboard in Springtown, Texas, as part of their 'Protect Children Project,' which read: "Never be hit in school again. Exercise your religious rights."
Springtown made headlines in 2012, after a male vice principal spanked two female students aged 15 and 16, leaving "welts, blisters and bruises" according to the teens' parents.
READ MORE: Educatin' with Satan: Oregon elementary school lets Satanic club rival Christian group
While corporal punishment is still legal in Texas with parental consent, it was, at the time, illegal for a member of the opposite sex to paddle a student. The Springtown ISD Board of Trustees later changed the policy to allow an administrator of the opposite sex to dole out the punishment, on condition that an administrator of the same sex supervises.
The temple's poster was apparently ill-received by some locals and torn down just one day after it was erected. The group says they will be reinstating the billboard.
Whether through an act of God or man, the Satanic Temple billboard criticizing SISD's spanking policy is now flapping in the wind on Hwy 199 pic.twitter.com/54PLMxS9lg

— Springtown Epigraph (@SpringtownEpi) March 17, 2017
The Satanic Temple plans to post billboards near schools that still practice corporal punishment, which is legal in 19 states, including Alabama, Arkansas, Georgia, Louisiana, and Mississippi. The temple is requesting donations to help fund the campaign.
READ MORE: Satanic Temple slams new Texas fetus burial rule opposed by Pro-Choice groups
According to a ruling by the US Supreme Court in 1977, spanking or paddling in schools is lawful where it has not been explicitly outlawed by local authorities.
The temple is asking members of the Satanic community who are students in US public schools to register to have their schools notified that corporal punishment is an abuse of their civil rights.
You can share this story on social media: