Education Secretary DeVos weakens school accountability law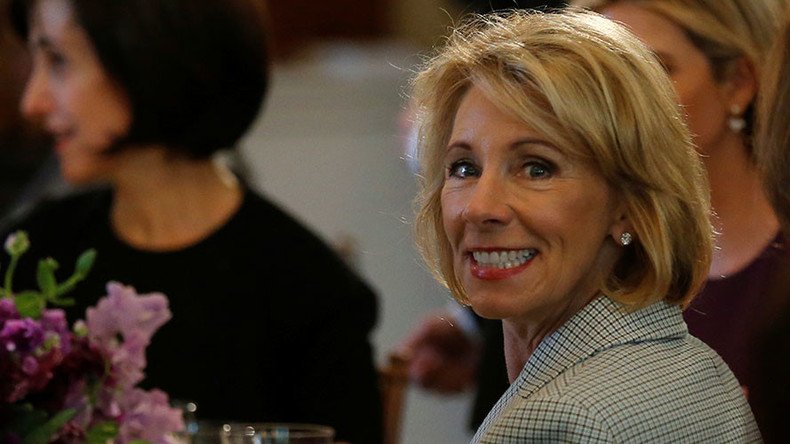 Education Secretary Betsy DeVos has taken steps to eliminate the Every Student Succeeds Act (ESSA) — a regulation that requires states to work with teachers and parents when creating performance goals for students.
A new template for states creating their ESSA plans removes the requirement that parents, teachers, administrators, principals and other stakeholders be consulted about accountability plans and performance goals.
As a result, the only person federally mandated to be involved in establishing student performance goals will be the state governor, while states will have the option of expanding their own accountability policies.
"In its consolidated State plan, each SEA [state education agency] may, but is not required to, include supplemental information such as its overall vision for improving outcomes for all students and its efforts to consult with and engage stakeholders when developing its consolidated State plan," the new template reads.
The ESSA was created in 2015 as a replacement for the No Child Left Behind Act that resulted in massive amounts of mandatory testing. However, the ESSA did little to ease the burden, and the new changes under DeVos do not lessen the number of tests either.
DeVos praised the modifications as being a way to "streamline" the ESSA.
"The plans each state develops under the streamlined ESSA template will promote innovation, flexibility and accountability to ensure every child has a chance to learn and succeed," she said in a statement.
An FAQ released along with the modified template explained that the US Education Department "strongly encourages" state educational agencies to consult with stakeholders for feedback. A spokesperson for the department was asked by the Washington Post about the discrepancy between the language of the bill and the guidance in the FAQ. "The Secretary's statement simply amplified what's in the statute," the spokesman said.
READ MORE: DeVos backlash: Parents threaten to homeschool kids after appointment
The education secretary has previously voiced opposition to other federal education regulations. During her confirmation hearing, DeVos told US senators that forcing schools receiving federal funds to uphold the Individuals with Disabilities Education Act (IDEA) would be "best left to the states," despite there being a federal mandate.
You can share this story on social media: