'That's not who we are': Senators grill commandant over #MarinesUnited naked photos scandal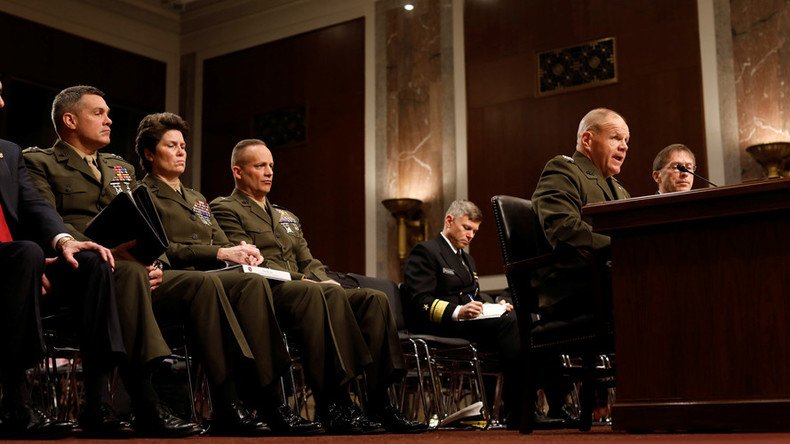 Amid a NCIS investigation of the scandal involving a Facebook group sharing naked photos of female Marines, top Navy and Marine officials faced angry senators demanding answers to the "toxic" behavior threatening to dishonor the US military's elite branch.
US Marine Corps Commandant General Robert Neller testified before the Senate Armed Services Committee on Tuesday in the 'Marines United' affair, describing the scandal as "perversion to our culture" and a "stain" on the USMC.
Last week, an investigative report discovered the existence of a secret Facebook page, accessible through the 30,000-member group, with "hundreds – possibly thousands" of photos of female Marines accompanied by salacious comments.
The scandal amounts to "insider threat," said acting Secretary of the Navy Sean Stackley, calling the posting of photos and comments "toxic predatory behavior" and "grievous breakdown of good order and discipline" that undermined unit cohesion. He described cyberbullying as a "cancer" that must be eradicated and an "attack on our core values."
"Using social media to degrade, denigrate, or be disrespectful of other Marines is not just not who we are, it's illegal," Neller told the committee.
Much about the case remains a mystery, from the number of people actually involved in posting and commenting on the photos to their status as active duty or veteran Marines. As of Monday, NCIS had received 53 calls on the tip-off line opened specifically for the investigation, Stackley disclosed.
"About 500 people" had access to the photos, Neller disclosed at one point, noting that even one was too many. The investigators needed more victims and witnesses to come forward, he said.
On Monday, the Marine Corps issued an updated policy on social media in order to address the scandal, Neller told the senators. He warned, however, that free speech rights prevented the military from declaring certain websites off-limits or censoring access from service members' personal devices.
The investigation so far has not uncovered any use of government computers to access the page, Stackley said.
Senator Kirsten Gillibrand (D-New York), on whose initiative the hearing was convened, told Neller that his words "ring hollow," since the USMC hasn't punished anyone yet.
"If we can't crack Facebook, how are we supposed to deal with Russian aggression?" she asked, exasperated.
"I don't have a good answer for you," Neller replied. "This is a problem with our culture."
"I'm responsible. I'm the commandant. I own this," he added. "We're going to have to change how we see ourselves, and how we treat each other. That's a lame answer, but that's the best I can tell you right now."
Several senators commented on the inability of the Marines to prosecute veterans who may be involved in the scandal, as they are no longer subject to the Uniform Code of Military Justice.
Sen. Thom Tillis (R-North Carolina) suggested taking away their benefits to "make it a very frightening proposition, going forward," to engage in such activity online.
Sen. Angus King (I-Maine) brought up one Marine who posted a picture of his discharge papers online, with a message, "try to come and get me, NCIS!"
"Let's make 'em famous right here." — Sen. @LindseyGrahamSC on veteran who posted DD214 and said 'come and get me NCIS'

— Paul Szoldra (@PaulSzoldra) March 14, 2017
"Did someone really post their discharge papers? Let's make them famous, right here," said Sen. Lindsey Graham (R-South Carolina). Any names were saved for the closed session, however.
Neller agreed with Graham's description of the scandal being "one of the darkest chapters in history" of the Marine Corps, saying "We have not distinguished ourselves in this."
Sen. Mike Rounds (R-South Dakota) raised the issue of how the scandal might reflect on women wanting to join the Marines, asking at one point, "We can't go to war without women anymore, can we?"
"No sir, we can't," Neller replied.
The commandant did push back on Sen. Elizabeth Warren's (D-Massachusetts) characterization of recruit training as "segregated," noting that recruit platoons lived separately because the squad bays were open, but trained together in most activities.
You can share this story on social media: