Top Marine calls on victims of nude photo scandal to come forward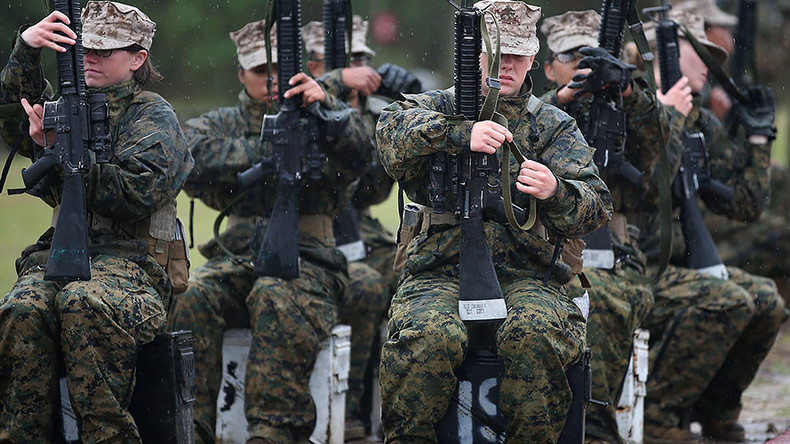 As the scandal involving photos of nude female Marines posted on Facebook widens, the Marine Corps' commandant has stepped in with an official statement, calling on the victims to come forward.
"These allegations themselves, they undermine everything that we stand for as a Marine Corps and as Marines: discipline, honor, professionalism and respect and trust amongst each other," General Robert Neller, the commandant of the Marine Corps, said.
The scandal originally implicated marines belonging to a Facebook group called Marines United who were sharing images of naked personnel, jokingly named "wins."
The original Marines United group, which had 30,000 members, contained "hundreds – possibly thousands" of photos of naked female recruits, veterans, and other women. Though it was closed when the scandal broke, its time offline was short-lived, as it reemerged as a new page with stricter membership criteria.
Neller said the number of victims identified "is less than 10 so far."
"But we would encourage anybody else who believes they've been involved in this to come forward… I'm going to ask them [victims] to trust us," he added, while admitting that he understands this could be "a bit of a reach for them right now."
READ MORE: Nude photo scandal rampant across US military, not just marines – report
"But I can't fix this. I mean, the only way that there's going to be accountability in this, is if somebody comes forward and tells us what happened to them.
"I need everybody's help, not just women Marines. I need all Marines. This affects them directly, but this affects the entire organization and our alumni and our reserve component," the Marine commandant said.
Neller pointed out that male and female marines have been fighting together for 15 years.
"You know, men and women, side by side," he said.
"You know, a sergeant major was killed up there [in Iraq] with a couple of female Marines that were manning the checkpoint where the Iraqi women would come through," Neller said, without giving the exact date or location.
The top Marine said that the individuals responsible "were focused on a particular group and their purpose was to degrade."
READ MORE: US Marines in hot water over pictures of '100s of naked recruits' posted on secret FB page
Nonetheless, no one has been charged yet, according to Neller.
"The investigation that's ongoing will help us understand the scope of this and I can assure you if there's accountability to be made, those that are involved will be held accountable," he said.
The explicit photos were uncovered on the Marines United page by the War Horse, an NGO news organization run by Marine veteran Thomas Brennan, who got in touch with the Marine Corps on January 30. A day later, the social media accounts involved were removed by Facebook and Google at the Corps' request.
Retired US Marine Erika Butner, who says she is one of the victims, told reporters that she was "disheartened and disgusted with this scandal."
"Victim blaming and the excuse that some are giving, that 'boys will be boys' needs to stop," Butner said, adding "as a rape survivor, I can tell you this exact behavior leads to the normalization of sexual harassment and even sexual violence."
Another alleged victim, Marine Lance Corporal Marisa Woytek, said photos of her were taken from her Instagram account and posted on the Marines United page several times.
"Even if I could, I'm never reenlisting," Woytek said, as cited by the Washington Post, while stressing that "being sexually harassed online ruined the Marine Corps for me, and the experience."