Uber pushes back on Seattle drivers' efforts to unionize
Published time: 13 Mar, 2017 19:00
Edited time: 14 Mar, 2017 08:54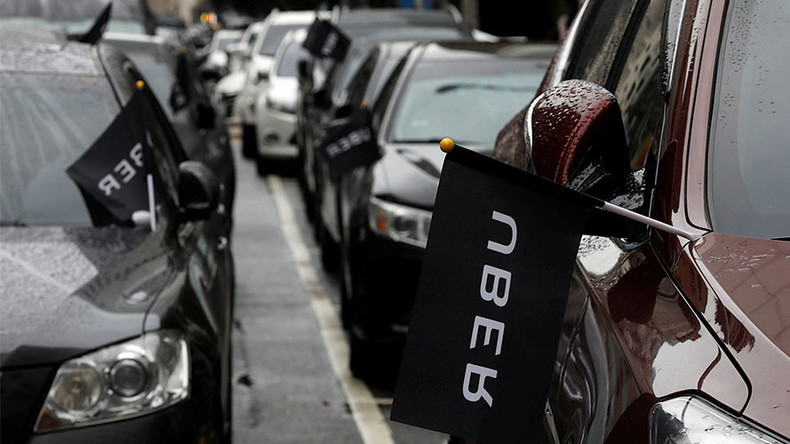 Ride-hailing firm Uber is working to thwart a Seattle Teamsters union's efforts to organize company drivers, going as far as issuing drivers with a series of anti-union podcasts. Uber has sued over a city ordinance allowing drivers a union vote.
Drivers for Uber Technologies Inc. and other ride-sharing companies were granted the right to hold a vote over unionization in January after the Seattle City Council passed a relevant ordinance in 2015.
Such drivers are currently independent contractors who are not protected by labor laws; thus, collective bargaining would seek to offer them workplace protections. Uber has claimed that unionizing – which would certainly cut into the company's profits – would threaten drivers' freedom to work whenever and as long as they want, a point of popularity for drivers of ride-hailing services.
The company's strategy since the passage of the ordinance has been a comprehensive pressure campaign that ranges from texting, phoning and emailing drivers to filing a lawsuit to block the ordinance – a hearing over the suit is set for later this month, according to the Wall Street Journal.
"Uber is telling us they don't want us to join a union," driver Fasil Teka told WSJ. "Uber also tells us we're their partners, but they don't treat us like we are partners."
Uber, privately valued at $68 billion, has also issued a series of podcasts to drivers warning against collective bargaining that has included 18 episodes to date, according to Quartz.
"As I'm sure you know, we at Uber do not believe the Teamsters can serve as a fair and effective representative for drivers," says Brooke Steger, general manager for Uber in the Seattle area, in the latest podcast, Quartz reported.
The podcasts are front-and-center when an Uber driver turns on his or her app to field ride requests at the beginning of a self-selected shift. Furthermore, Uber has run advertisements against unionization on its app and on television, invited drivers to meetings on the subject and has funded a nonprofit lobbying group of about 800 drivers that has crafted pre-written articles for the Seattle Times, WSJ reported.
"It's totally impossible to know how the ordinance could limit who can drive, when you can drive and where you can drive, as well as what you might be required to pay in union dues," Steger said in another podcast, according to WSJ.
For its part, Teamsters Local 117, the labor union working with Seattle's independent drivers, said they have no intention to meddle with drivers' voluntary schedules.
"The only thing that drivers universally like is their flexibility, so Uber is attacking that point," Dawn Gearhart, a representative for the union, told WSJ.
The Teamsters got final approval to organize ride-hailing drivers on March 3, according to Quartz, requiring companies like Uber to offer contact information for its drivers. The union has 120 days to drum up support for unionization among drivers who joined a company like Uber prior to October 20, 2016, and who have started or ended at least 52 rides in three months.
"I've never seen an anti-union podcast before," Gearhart told Quartz. "I've never seen anything about the Teamsters during a national football game," she added of Uber's recent anti-union advertising during a Seattle Seahawks game.
Uber and its ride-hailing counterpart Lyft aren't the only entities fighting driver unionization. On March 9, the US Chamber of Commerce re-filed a lawsuit challenging the city's ordinance; a day later, 11 drivers backed by the anti-union National Right to Work Committee filed a federal lawsuit to block the ordinance.
The National Right to Work Committee claims there are more than 9,000 drivers offering rides in Seattle through Uber and Lyft.
The anti-union push for Uber comes in the midst of a stretch of bad news for the company. In recent weeks, an ex-employee has made damning allegations of sexual harassment; Google's parent company Alphabet Inc. filed a lawsuit against Uber claiming theft of driverless car technology, including patent violations; and a leaked video showed Uber CEO Travis Kalanick engaging in a tense argument with an Uber driver over fare prices.