Tech support: Tesla, Uber & Pepsi CEOs join Trump's advisory council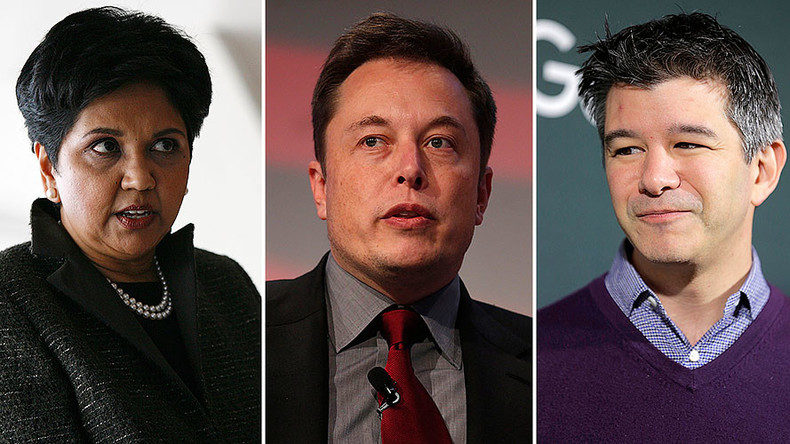 President-elect Donald Trump has added Elon Musk of Tesla and SpaceX, Travis Kalanick of Uber, and Indra Nooyi of PepsiCo, to his Strategic and Policy Forum. The body of business leaders was created to advise Trump on economic policy.
Musk and Kalanick inject a mix of innovation and new technologies into the team consisting mainly of old-fashioned 'blue-chip' companies, while Nooyi will be the third woman on the panel.
"America has the most innovative and vibrant companies in the world, and the pioneering CEOs joining this Forum today are at the top of their fields," Trump said in the announcement. "My Administration is going to work together with the private sector to improve the business climate and make it attractive for firms to create new jobs across the United States from Silicon Valley to the heartland."
The announcement comes as top executives from Silicon Valley – who by and large backed Trump's rival Hillary Clinton in the presidential race – are set to meet with the president-elect at Trump Tower on Wednesday. In addition to Musk, Apple CEO Tim Cook and Facebook COO Sheryl Sandberg will be attending the summit. PayPal co-founder Peter Thiel, who reportedly helped set up the meeting, is one of the few tech entrepreneurs who openly backed Trump during the campaign.
On Tuesday, Microsoft founder Bill Gates said President-elect Trump had embraced innovation "in the same way that President Kennedy talked about the space mission and got the country behind that,"CNBC reported. Gates spoke with Trump on the phone and later met in person with the president-elect.
Kalanick co-founded Uber in 2008, disrupting the taxi service business model in more than 450 cities across 80 countries. Musk made a fortune from startups Zip2 and PayPal before establishing private space exploration company SpaceX in 2002 and Tesla Motors in 2003. He serves as chairman and CEO of both. Nooyi heads PepsiCo, the largest food and beverage company in the US.
Established in early December, the forum consists of "some of America's most highly respected and successful business leaders," with the mission to "share their specific experience and knowledge" with Trump to aid his economic program, according to the presidential transition team.
The forum is chaired by Stephen A. Schwarzman, CEO and co-founder of asset management company Blackstone. Other notable members are JPMorgan Chase CEO Jamie Dimon, Disney CEO and Chairman Bob Iger, General Motors Chairman and CEO Mary Barra, IBM President and CEO Ginni Rometty, President and CEO of Walmart Doug McMillon, and former CEO of General Electric Jack Welch.
The first meeting of the Strategic and Policy Forum is planned to take place at the White House during the first week of February.
You can share this story on social media: