Uber hires Eric Holder to review sexual harassment claims
Published time: 21 Feb, 2017 18:12
Edited time: 22 Feb, 2017 09:39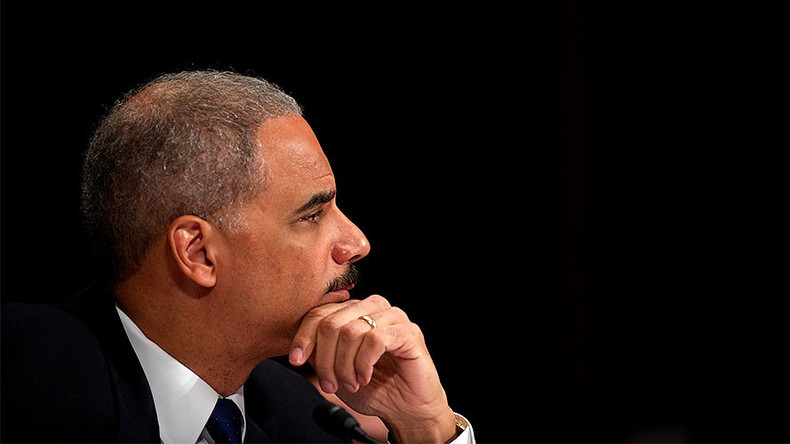 Former US Attorney General Eric Holder and his partner at the law firm Covington & Burling have been hired to review sexual harassment allegations made by a former Uber employee against a manager for the ride-hailing service.
Holder, who led the Department of Justice from 2009 to 2015, and Tammy Albarrán will investigate sexual harassment claims against a former Uber manager. The employee who made the allegations has said the company's human resources department refused to take action to probe the matter. Holder and Albarrán will also review the company's policies on diversity and inclusion, according to an internal Uber memo sent by CEO Travis Kalanick, Reuters reported.
Aiding Holder and Albarrán in the review will be Arianna Huffington, co-founder of the Huffington Post and Uber board member; Liane Hornsey, the company's chief human resources officer; and Angela Padilla, Uber's associate general counsel, Kalanick said in the memo. This trio is scheduled to meet on Tuesday, Reuters reported.
Albarrán is based in San Francisco, which is also where Uber is headquartered.
On Monday, Kalanick announced an "urgent investigation" into allegations made by former Uber engineer Susan Fowler, who has said her manager at the company openly propositioned her for sex on her first day under his supervision.
Kalanick's announcement came in response to public claims made Sunday by Fowler on her personal blog in which she said the man sent her and other female Uber employees instant messages inquiring about sex.
Fowler wrote in the blog post that she took screenshots of the internal chat and sent them to Uber's human resources department. The manager was never punished, Fowler wrote, saying that the HR department told her he was a "high performer," that it was his first offense, and that "they wouldn't feel comfortable punishing him for what was probably just an innocent mistake on his part."
Fowler said she was told that she could leave that manager's sector, for which she had "significant expertise," or she could stay and suffer a possible negative review from the manager, a potential circumstance that HR said it could do nothing about.
Nothing says we're preparing to pay large sum settlements quite like hiring Eric Holder to investigate claims of @Uber sexual harassment.

— Criminelle Law (@CriminelleLaw) February 21, 2017
"I remarked that this didn't seem like much of a choice, and that I wanted to stay on the team because I had significant expertise in the exact project that the team was struggling to complete (it was genuinely in the company's best interest to have me on that team), but they told me the same thing again and again," Fowler wrote of Uber's HR department.
She also wrote that discussions with other female employees indicated her harassment was not the manager's "first offense," as alleged by company HR.
"We all gave up on Uber [Human Resources] and our managers after that," she said.
Kalanick said in a statement on Monday that the allegations made by Fowler are "abhorrent and against everything Uber stands for and believes in."
2/ I've instructed our CHRO Liane to conduct an urgent investigation. There can be absolutely no place for this kind of behavior at Uber.

— travis kalanick (@travisk) February 20, 2017
"I believe in creating a workplace where a deep sense of justice underpins everything we do," Kalanick said of the Fowler claims and past allegations that the company's workforce lacks in diversity. "Every Uber employee should be proud of the culture we have and what we will build together over time."
The investigation has resuscitated the #DeleteUber hashtag on social media, which began in response to Uber's decision to turn off its surge pricing at JFK Airport in New York during the protests over President Donald Trump's travel ban in January.
The decision led people to believe the company was profiting from the ban. Kalanick then soon after stepped down from his role on Trump's economic advisory council.
They should note that Holder will do absolutely nothing if he finds gun-running to Mexican drug cartels, or felony bank fraud, at Uber.

— Rudolf E. Havenstein (@RudyHavenstein) February 21, 2017