Immigrant who spoke out against raids to be deported without hearing – ICE
Published time: 3 Mar, 2017 22:03
Edited time: 5 Mar, 2017 09:42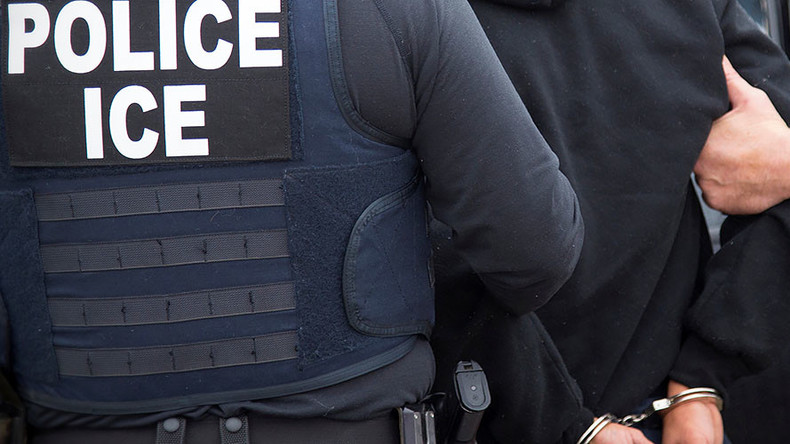 A young immigrant woman arrested after she held a press conference condemning the detention of her family will be deported without a hearing because she entered the US on a visa waiver at age 7 and let her DACA status expire, immigration authorities said.
The government intends to deport Daniela Vargas without a court hearing, her attorney Abby Peterson told reporters on Thursday.
Vargas, 22, was arrested on Wednesday after a press conference in Jackson, Mississippi, where she condemning the arrest of her father and brother by Immigration and Customs Enforcement (ICE) agents.
At the press event organized by the Immigrant Rights Alliance, Vargas spoke about her fears of deportation and called on the Trump administration to offer amnesty to those in the country illegally.
"A path for citizenship is necessary for DACA recipients but also for the other 11 million undocumented people with dreams," Vargas said.
Her father and brother were detained by ICE agents on February 15. Vargas herself was questioned by agents, who showed up with a warrant at her home, but told them she was protected under the Obama administration's Deferred Action for Childhood Arrivals (DACA) program, according to immigration officials.
As it turned out, however, Vargas had let her DACA status lapse in November 2016, and only reapplied for renewal in February. According to Peterson, the delay was due to her having to save up the $495 for the application fee.
Vargas was brought to the US from Argentina at age 7. At the time, Argentina was part of the visa waiver program, which allows certain foreigners to stay in the US up to 90 days. Individuals who overstay their visas have no right to a hearing or to contest their deportation unless they are asking for asylum.
Critics of President Donald Trump's policy of deporting immigrants who are in the US illegally have embraced Vargas as a landmark case, using the hashtag #FreeDaniela on social media.
"ICE's assertion that her detention is 'routine' is absurd and seems anything but," Representative Bennie Thompson (D- Mississippi), the ranking Democrat on the House Committee on Homeland Security, said in a statement on Thursday. "Those like Ms. Vargas just want a better life for themselves and their families."
"We are all Daniela Vargas," tweeted Pablo Manriquez, former Democratic National Committee staffer made famous by WikiLeaks disclosures in 2016.
In a statement to the media, Vargas said the US is the only home she knows and that she would "do anything" for this country.
"I can't help that I was brought here but I don't know anything else besides being here and I didn't realize that until I was in a holding cell last night for 5 hours," she said. "I feel, I strongly feel that I belong here and I strongly feel that I should be given a chance to be here and do something good and work in this economy."
While both Trump and Homeland Security Secretary John Kelly have ruled out mass deportations, the president's January 25 executive order instructed DHS to expedite status claims of detained immigrants and "remove promptly those individuals whose legal claims to remain in the United States have been lawfully rejected, after any appropriate civil or criminal sanctions have been imposed."