Trump's newest immigration rules outline 'expedited removal' of illegal aliens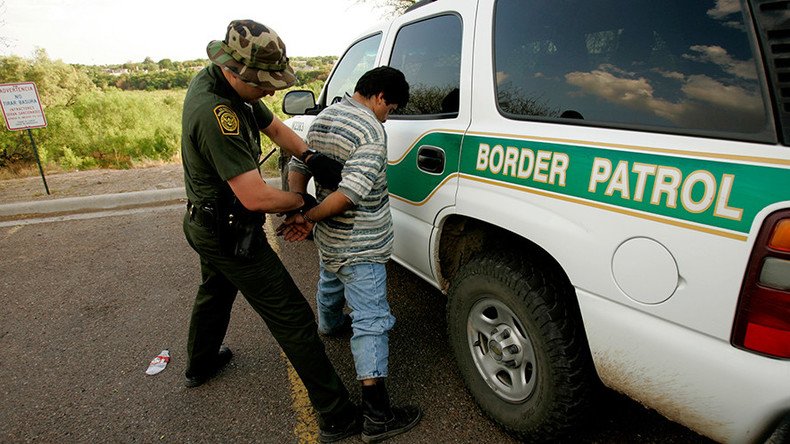 The Trump administration's latest immigration enforcement rules intend to speed up court hearings and introduce "expedited removal" of illegal immigrants. Enforcement would focus on "criminal aliens" rather than mass deportations, the White House said.
The rules, outlined in two memos released by the Department of Homeland Security (DHS) on Tuesday, states that the Department's personnel have "full authority to arrest or apprehend an alien whom an immigration officer has probable cause to believe is in violation of the immigration laws."
A plan to establish more detention facilities is also outlined.
'Expedited removals'
The new rules would also subject immigrants who cannot show they have been in the country for more than two years to "expedited removal."
"The surge of illegal immigration at the southern border has overwhelmed federal agencies and resources and has created a significant national security vulnerability to the United States. Thousands of aliens apprehended at the border, placed in removal proceedings, and released from custody have absconded and failed to appear at their removal hearings..." one of the memos states, citing a "backlog" of removal cases.
It goes on to say that the average removal case for an alien who has not been detained can sit pending before an immigration judge for more than two years, while some will not have their cases heard for as long as five years.
"This unacceptable delay affords removable aliens with no plausible claim for relief to remain unlawfully in the United States for many years," the memo states.
Currently, only those apprehended near a US border who cannot show that they've been in the country for more than 14 days are subject to removal.
Meanwhile, the plan also outlines an aim to "immediately identify and allocate all sources of available funding for the planning, design, construction, and maintenance" of a border wall between Mexico – one of Trump's key campaign promises.
'Criminal aliens'
The administration noted that any illegal alien can be deported at any time, but said it would be prioritizing "criminal aliens," meaning those who have been charged with or convicted of a crime.
"Criminal aliens have demonstrated their disregard for the rule of law and pose a threat to persons residing in the United States. As such, criminal aliens are a priority for removal," one of the documents states.
READ MORE: ICE 'removal orders' cover 950k illegal immigrants, less than 1 percent captured in raids
The removals would be aided by law enforcement agencies choosing to participate in a program which would grant local officers the authority to act as immigration agents.
"Such officers have the authority to perform all law enforcement functions specified in section 287(a) of the INA, including the authority to investigate, identify, apprehend, arrest, detain, and conduct searches authorized under the INA, under the direction and supervision of the Department..." the same memo states.
In addition, the administration's rules outline the hiring of 5,000 more Border Patrol agents and 10,000 extra Immigration and Customs Enforcement agents.
'Take the shackles off'
The new guidelines aim to "take the shackles off" immigration enforcers, White House Press Secretary Sean Spicer said on Tuesday, adding that the top priority is that "people who pose a threat to our country are immediately dealt with."
He went on to state that although the memos authorize mass roundups of illegal immigrants, authorities will not be doing so, and that only about 1 million people currently fit the criteria for aggressive deportation action.
"Everybody who is here illegally is subject to removal at any time," Spicer noted. "At some point, laws are laws."
Critics of the new rules are bracing for the worst, however, with the American Civil Liberties Union saying it will challenge the directives in court.
Mexican officials also stated that the guidelines could violate Mexican law and international accords governing repatriation, the New York Times reported.
Meanwhile, the executive director of the National Immigration Law Center, Marielena Hincapié, said she believes the new guidelines will lead to raids in immigrant communities.
"We are bracing ourselves for increased raids, increased detention of our family members, of our community members," she told NBC News.
The new guidelines were rolled out just one day after demonstrators hit the streets of US cities to speak out against Trump's policies in the 'Not My President's Day' protests. The rallies were the latest in a series of nationwide protests against Trump's hardline stance towards immigration.
Trump's January travel ban on people from seven mainly-Muslim countries was thwarted by the US Court of Appeals for the 9th Circuit, which refused to reinstate the executive order after it was earlier suspended by a lower judge.
The president is expected to roll out a new ban this week, which will target the same countries, but will not affect people with green cards or those who are US dual citizens. It will no longer direct authorities to single out – and reject – Syrian refugees when processing new visa applications, a senior administration official told AP.
You can share this story on social media: