ICE 'removal orders' cover 950k illegal immigrants, less than 1 percent captured in raids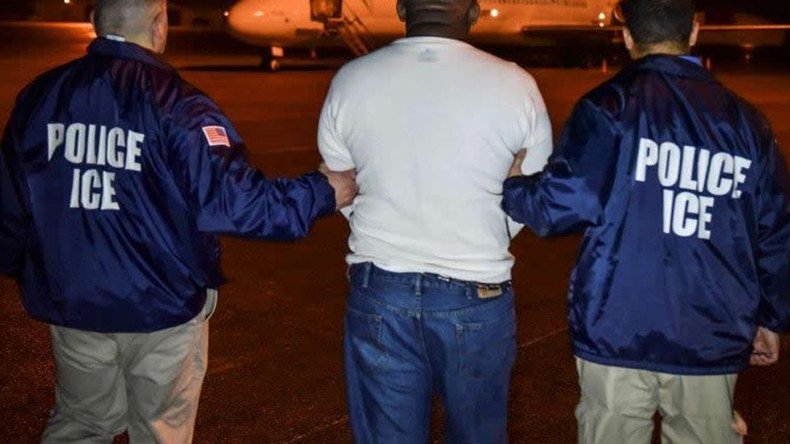 The 680 undocumented immigrants recently captured by ICE represent 0.7 percent of all those targeted for deportation, as nearly 940,000 others remain undetained. Meanwhile, the Department of Homeland Security has approved hiring more ICE agents.
Government officials and President Donald Trump are proposing hiring more border enforcement agents and changing the deportation laws to deal with nearly 1 million undocumented immigrants given "final orders of removal."
In a written response to questions from Senate Judiciary Committee Chairman Chuck Grassley (R-Iowa), the current director of the Immigration and Customs Enforcement (ICE), Thomas Homan, said that ICE has only detained 11,006 undocumented immigrants since May 2016, roughly 1 percent of the million immigrants who have been ordered for deportation.
"As of May 21, 2016, there were 950,062 aliens with final orders of removal on US Immigration and Customs Enforcement's (ICE) national docket. Of those aliens, 939,056 were on ICE's non-detained docket and 11,006 were on ICE's detained docket," Homan told the Judiciary Committee, according to the Washington Examiner.
On Thursday, Congresswoman Linda Sanchez (D-California) said that Homan told her and Democratic colleagues that ICE plans to significantly increase immigration arrests under Trump's executive order.
"They said that we can and should expect many more arrests and removals this year," Sanchez told the Los Angeles Times, adding that under the proposed policies, "essentially anybody who has an immigration status violation is a priority for deportation."
The latest survey from the Pew Research Center Hispanic Trends found over 11 million undocumented immigrants were living in the US in 2014.
In a statement from last week, Secretary John Kelly of the Department of Homeland Security (DHS) confirmed that 680 illegals had been detained by ICE officers in a series of raids since the executive order was signed. Kelly said the enforcement operations were regular and that they were only targeting criminals.
"Of those arrested, approximately 75 percent were criminal aliens, convicted of crimes including, but not limited to, homicide, aggravated sexual abuse, sexual assault of a minor, lewd and lascivious acts with a child, indecent liberties with a minor, drug trafficking, battery, assault, DUI and weapons charges," Kelly said.
On Sunday, Kelly signed a pair of memos approving the hiring of thousands of new enforcement agents and expanding the "expedited removal" proceedings to cover thousands more undocumented immigrants.
In his first memo, Kelly approves the hiring of 10,000 new ICE officers and 5,000 new staff for the Customs and Border Protection (CBP) in response to Trump's January 25 executive order, which calls for at least 5,000 new hires.
"The surge of immigration at the southern border has overwhelmed federal agencies and resources and has created a significant national security vulnerability to the United States," wrote Kelly, citing the increase in apprehensions along that border between 2015 and 2016 that "significantly strained" their resources.
There are currently 20,000 ICE employees in total, according to the agency's website.
Kelly's second memo would allow ICE and CBP to immediately deport individuals who have been detained. Under current laws, expedited removal is only used for those caught by border patrol agents within 100 miles of the border, and only applies to those who have been in the country for up to two weeks. Kelly's memos would expand those rules to individuals who have been in the country for up to two years, no matter where they are in the US.
The pair of memos do not include the proposal to mobilize the National Guard for immigration enforcement that was included in a draft leaked to reporters on Friday. The current memos are still considered draft documents, and need to be reviewed by the White House Counsel's Office before they will go into effect.
You can share this story on social media: