Feds arrest 680+ undocumented migrants in week-long sweep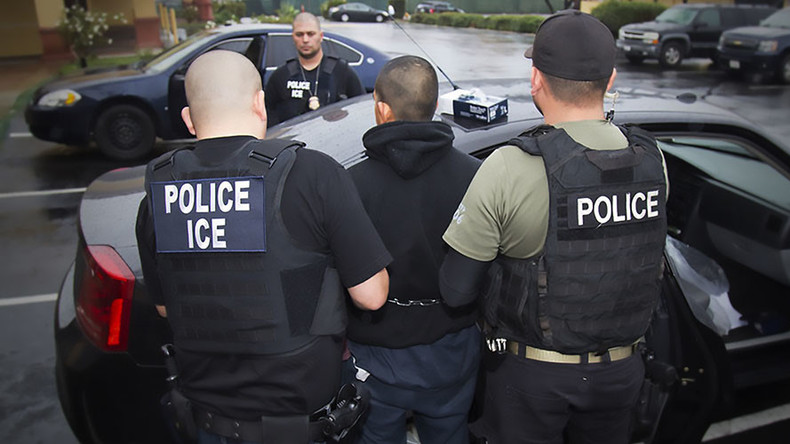 More than 680 undocumented migrants have been arrested in a series of raids across multiple US states, with the authorities saying that 75 percent of them had prior convictions. Activists are handing out flyers urging the migrants to "know their rights."
Secretary John Kelly said in a statement on Monday, Immigration and Customs Enforcement (ICE) officers in Los Angeles, Chicago, Atlanta, San Antonio and New York City were responsible for arrests of "individuals who posed a threat to public safety, border security or the integrity of our nation's immigration system."
ICE said those arrested were being sought for offenses "including but not limited to, homicide, aggravated sexual abuse, sexual assault of a minor, lewd and lascivious acts with a child, indecent liberties with a minor, drug trafficking, battery, assault, DUI and weapons charges."
The Department of Homeland Security did not state how many immigrants were arrested for serious crimes such as homicide and sexual assault, and Immigration and Customs Enforcement (ICE) only provided information on 15 of the people arrested.
While ICE targeted leading urban centers in the US, there were also arrests in the Carolinas and Georgia. ICE said agents arrested 84 in North Carolina, 19 in South Carolina and 87 in Georgia. Among those were 127 people with prior criminal convictions, 29 who had re-entered the US after being deported, and 17 with outstanding final orders from a federal judge ordering them to leave the US.
Meanwhile, activist group United We Dream has been distributing leaflets in the Maryland and Virginia suburbs, advising people "Do Not Open Doors" for ICE officials; "Remain Silent" and "take notes of badge numbers."
"We're not asking people to evade law enforcement, we're teaching them their rights," Ambar Pinto, who handles a nationwide hotline for United We Dream told WTOP. "People are coming at 5 in the morning or in the middle of the night in your house with guns… asking everybody for ID and fingerprints, that is rogue."
DHS Secretary John Kelly said the department had conducted similar sweeps over many years. But the latest raids are drawing extra scrutiny since the Trump administration promised to deport up to 3 million people in the US illegally. In addition, on January 25, President Donald Trump signed executive orders expanding the categories of undocumented immigrants to include those who have not been convicted a crime.
At a press conference on Monday, Trump said he wanted to deport those immigrants who had committed serious crimes.
"I said we will get the criminals out – the drug lords, the gang members – we're getting them out," Trump said. "We are going to get the bad ones. The really bad ones, we're getting them out and that's exactly what we're doing."
Immigration rights advocates said the scale and synchronization of the raids are unusual, despite the agency's describing them as routine.
"There were individuals that had, first, no criminal conviction – second, maybe a minor conviction – but third, some of them had a previous deportation order and that was what made them a priority," Joseph Villela, director of policy at the immigration rights group CHIRLA, told NPR. "This is a shift that reflected [President Trump's] executive order."
Among those arrested by ICE were people who were only picked up because they were in the same place as a person who was targeted, and did not have documentation, Villela said.
You can share this story on social media: