'Who's gonna take on Wall Street?' Sanders trolls Trump's 'drain the swamp' pledge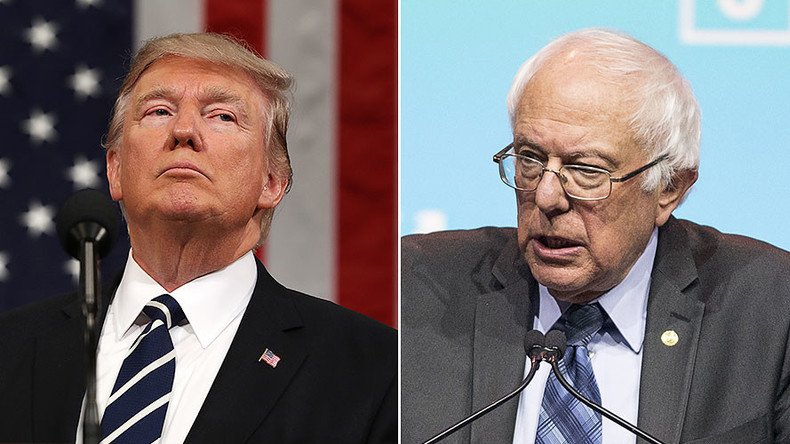 Vermont Senator Bernie Sanders has attacked US President Donald Trump over his failure to tackle Wall Street, describing his appointment of former Goldman Sachs President Gary Cohn as chief economic advisor as evidence of him failing to "drain the swamp."
Trump made his first major speech to Congress on Tuesday, addressing plans for the economy, immigration, health care reform and military spending.
READ MORE: Trump's first address to Congress
The former Democratic presidential candidate took to Facebook Live following Trump's address to Congress on Tuesday. In a 14-minute tirade, Sanders was heavily critical of the president, saying his administration had "more millionaires and billionaires than any presidential administration in history."
"Amazingly enough, for someone who's gonna drain the swamp, who's gonna take on Wall Street? His Chief Economic Adviser Gary Cohn is the former president of Goldman Sachs – one of the major financial institutions that paid billions of dollars in fines for their illegal activity."
Before critiquing Trump's speech, Sanders outlined what the president did not say during his Congressional address. He pointed out that Trump didn't make any reference to the Glass-Steagall Act – legislation preventing banking institutions from using depositors funds for risky investments. During his election campaign Trump pledged to bring back the act.
READ MORE: 'Time for trivial fights is over': Trump calls for unity during first major speech to Congress
Trump's lack of reference to climate change and voter suppression were also criticized by Sanders, who said he administration was "working overtime with Republican governors to make it harder for young people, lower income people, senior citizens and people of color to vote. That is an outrage."
Sanders was heavily critical of Trump's call for an $84 billion increase in the Pentagon's budget, saying it should instead be used to provide free tuition at every public college and university in the US in an effort to reduce the "crushing burden" of student debt.
The senator warned that Trump's speech sounded good on the surface "but it doesn't sound so good if you dig just a little beneath the surface."
You can share this story on social media: