'Time for trivial fights is over': Trump calls for unity during first major speech to Congress
Published time: 1 Mar, 2017 05:28
Edited time: 1 Mar, 2017 13:29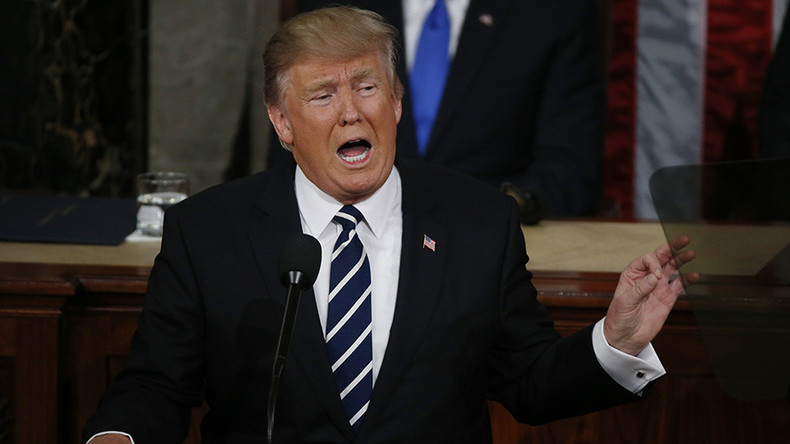 US President Donald Trump has addressed plans for the economy, immigration, health care reform, military spending, and more during a joint session of Congress in his first major speech since taking the oath of office.
CAMPAIGN PROMISES
Trump opened his speech by marking "the conclusion of our celebration of Black History Month," adding that there is "work that still needs to be done."
READ MORE: NATO, Middle East & other partners must play meaningful role & pay fair share of costs – Trump
He also denounced the recent threats against Jewish Community Centers and the shooting in Kansas, saying, "While we may be a nation divided on policies, we are a country that stands united in condemning hate and evil in all of its very ugly forms."
The president then reiterated his campaign promises on immigration laws, his plan to defeat the Islamic State (IS, formerly ISIS/ISIL), repealing and replacing Obamacare and even "draining the swamp," which was met with tepid applause as well as a few laughs.
ECONOMY
On economic issues, Trump updated the nation on the progress he has made so far, citing the $3 trillion the stock market has gained since the election.
Trump also said he saved taxpayers money by ordering a hiring freeze on non-military and non-essential federal workers, as well as bringing down the price of the F-35 fighter jet program, which has been called the most expensive weapon systems ever, at $1.5 trillion.
Trump also highlighted his executive order to expedite the Keystone XL and Dakota Access pipelines, which he says will create "thousands of jobs." Trump promised that all new pipelines will "be made with American steel."
On taxes, Trump spoke about a "historic tax reform" that his cabinet was working on, "so they can compete and thrive anywhere and with anyone."
Trump mentioned the tariffs and taxes that other nations impose on their exports. "It's been a long time since we had fair trade," Trump said.
Citing former President Dwight D. Eisenhower's investment in building the interstate highway system, Trump called for "a new program of national rebuilding," and asked Congress to approve $1 trillion for infrastructure stimulus that would be financed through public and private investment, and create millions of new jobs.
IMMIGRATION
"As we speak tonight, we are removing gang members, drug dealers, and criminals that threaten our communities and prey on our very innocent citizens," Trump said. "We want all Americans to succeed — but that can't happen in an environment of lawless chaos. We must restore integrity and the rule of law at our borders."
Trump repeated his promise to build a "great, great wall" along the US's Southern border, referring to the economic benefits, saying, "by finally enforcing our immigration laws, we will raise wages, help the unemployed, save billions and billions of dollars, and make our communities safer for everyone."
Citing data from the Department of Justice, Trump said that the "vast majority" of "individuals convicted of terrorism-related offenses" since September 11, 2001, have come from outside the country.
To support law enforcement efforts, Trump said he ordered the Department of Homeland Security to create an office to serve those who are victims of crimes committed by illegal immigrants, called the office of Victims of Immigration Crime Engagement (VOICE).
Trump's comments were met with groans, followed by applause.
HEALTHCARE
On healthcare, the president firmly asked Congress to repeal and replace Obamacare, which he said was "totally broken."
"The way to make health insurance available to everyone is to lower the cost of health insurance, and that is what we are going to do."
Trump laid out five plans of the alternative proposal, including ensuring that Americans with pre-existing conditions have coverage and that there is a stable transition of those who are enrolled in health care exchanges.
Trump also stated that the government should help Americans purchase health care through tax credits and expand health savings accounts.
"It must be the plan they want, not the plan forced on them by our government," Trump said.
Trump's plan for healthcare also seeks to give resources to governors to make sure that no one is left out of Medicaid programs. Lastly, he called for medical plans that can be purchased across state lines.
MILITARY
Trump also called for one of the largest increases in national defense spending in American history, as well as spending increases for veterans.
Trump called for more support for NATO, and said that while his job is to represent the American people, "we know that America is better off when there is less conflict -- not more."
Trump concluded, saying, "the time for small thinking is over" and "the time for trivial fights is over," which drew muddled reactions from some in the audience.
"I am asking all citizens to embrace this renewal of the American spirit," Trump said, before ending with the traditional "God bless these United States."