Trump's first address to Congress
Published time: 1 Mar, 2017 02:02
Edited time: 1 Mar, 2017 13:14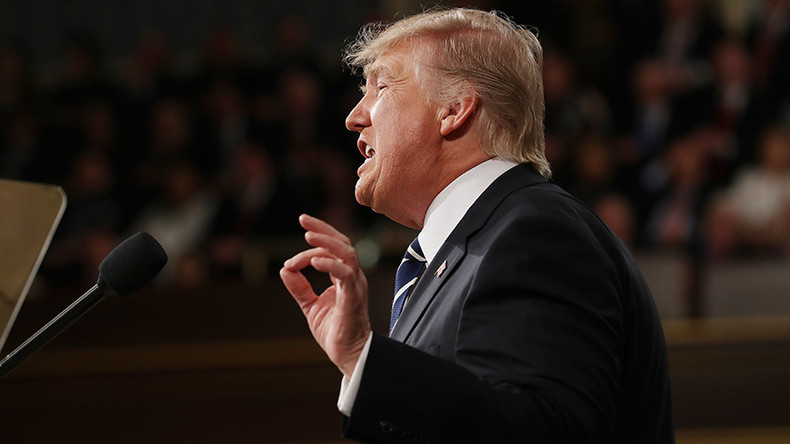 In President Donald Trump's first joint-address to the House and Senate, he is anticipated to cover a broad agenda. After just over a month in office, Trump's executive orders and proposed policies for Congress have sparked protests, and many Democrats have signaled they will show their disapproval during Tuesday night's remarks.
01 March 2017

03:07 GMT

Trump concluded, saying, "the time for small thinking is over" and "the time for trivial fights is over," which drew muddled reactions from some in the audience.

"I am asking all citizens to embrace this renewal of the American spirit," Trump said, before ending with the traditional "God bless the United States."

03:02 GMT

Trump then honored Carryn Owens, the widow of William "Ryan" Owens, the US Navy special operator senior chief who died in a recent Yemen raid.

"Ryan's legacy is etched into eternity. Thank you."

Trump's remarks prompted a long standing ovation for Carryn.

"Ryan is looking down, right now. You know that, and I think he is very happy, because I think he just broke a record," Trump said.

Beautiful moment as the biggest applause of the night came for the widow of William "Ryan" Owens. "Ryan's legacy is etched into eternity." pic.twitter.com/TqdrHnmh46

— WSB-TV (@wsbtv) March 1, 2017

02:53 GMT

Trump promoted the Victims of Immigration Crime Engagement, or VOICE Act, to the groans of some on the floor and the applause of others. He then introduced "four very brave Americans, whose government failed them," including Jessica Davis, Jenna Oliver, Susan Oliver and Jamiel Shaw, Sr.

02:46 GMT

Trump noted that his speech fell on Rare Diseases Day, and he then introduced his special guest, Megan Crowley, who was diagnosed with Pompe disease shortly after her first birthday. She survived the disease, and Trump proclaimed that once regulations at the Food and Drug Administration and across government were slashed, "we will be blessed with far more miracles, just like Megan."

Some on Twitter were skeptical.

02:42 GMT

Twitter reactions noted the enthusiastic applause from one half of the floor following Trump's Obamacare remarks.

02:40 GMT

Trump then called on Congress to repeal the Affordable Care Act.

"Obamacare is collapsing, and we must act decisively to protect all Americans," he said.

02:37 GMT

House Speaker Paul Ryan and Vice President Mike Pence chuckled when Trump said that the $6 trillion spent in the Middle East on wars in recent years "could have rebuilt our country twice, maybe even three times."

Trump was not smiling, but quite serious.

02:35 GMT

"Real and positive immigration reform is possible," Trump said. He outlined a policy that would "save countless dollars, raise workers' wages."

02:30 GMT

Trump ensured the US would keep its "unbreakable alliance with the State of Israel."

The president moved back to domestic issues, relenting that "94 million Americans are out of the labor force," "over 43 million Americans are on food stamps," and "more than one in five people in their prime working years are not working."

He blamed Obama's administration for incurring more new debt "than nearly all the previous presidents combined" and lamented that the US "lost 60,000 factories since China joined the WTO." He also mentioned "tragic foreign policy disasters" of the last two administrations, saying that "solving this requires us" to transcend party differences.

02:25 GMT

Trump condemned "uncontrolled entry" from regions, "where proper vetting cannot occur."

He mentioned terrorist attacks in Europe before promising the US would not become a "sanctuary" for threats.