Heroin-related overdose deaths quadrupled from 2010-15 - US govt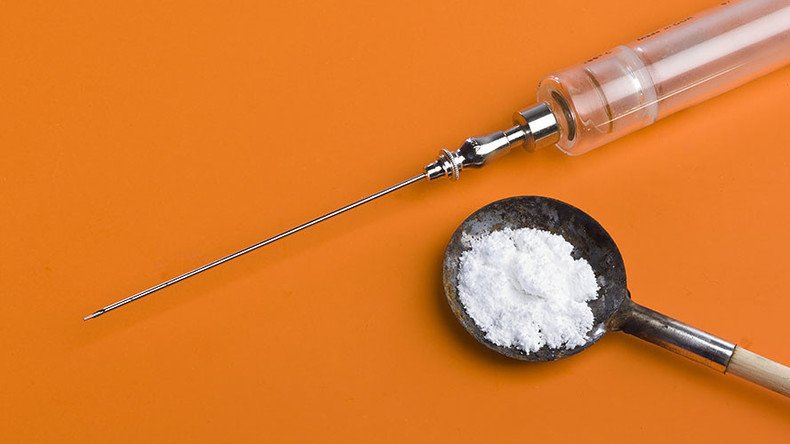 Heroin-related deaths in the US skyrocketed in the span of five years, amounting to a quarter of all overdose deaths by 2015, according to new federal data, presenting another grim snapshot of America's opioid epidemic.
Newly-released data from the National Center for Health Statistics (NCHS) on nationwide overdose-related deaths indicate that such fatalities are increasing at a rapid pace, jumping from 38,329 in 2010 to 47,055 in 2014, then to 52,404 by 2015, a 27 percent increase in five years.
Heroin deaths quadrupled in that time period, going from 3,036 in 2010, an 8 percent share of all overdose-related deaths, to 12,989 in 2015, a 24.3 percent share of all overdose-involved fatalities, the NCHS found.
In 2015, those aged 45-54 made up the highest percentage of overdose deaths for all age groups (30 deaths per 100,000), followed by those aged 35-44 (28.3), 25-34 (26.9), 55-64 (21.8), 15-24 (9.7) and 65 and up (5.8).
Overdose death rates increased for all age groups in the last 15 years, with deaths of those aged 55-64 making up the greatest percentage increase (4.2 per 100,000 in 1999 to 21.8 in 2015).
Rich Hamburg, executive vice president of Trust for America's Health, connected the high rates of heroin use and subsequent overdoses to the drug's low cost compared with prescription opioids.
"You are 40 times more likely to use heroin if you started with opioid painkillers," Hamburg said, according to Reuters. "Heroin is part of America's larger drug abuse problem."
The age-adjusted rate of overdose-related deaths among non-Hispanic white persons increased by a rate of almost 3.5 from 1999 to 2015 (21.1 deaths per 100,000), the NCHS reported.
The overdose death rate for non-Hispanic black persons in 2015 was 12.2 deaths per 100,000, an increase from 7.5 in 1999, while the rate for Hispanic persons went up from 5.4 to 7.7 over that time period.
The states with the highest age-adjusted intrastate rates of overdose deaths in 2015 were West Virginia (41.5 deaths per 100,000), New Hampshire (34.3), Kentucky (29.9), Ohio (29.9) and Rhode Island (28.2), while 16 other states also had death rates higher than the national rate of overdose deaths (16.3).
While the number of heroin-related deaths quadrupled from 2010 to 2015, the percentage share of all overdose deaths that were related to heroin tripled, from 8 percent to 25 percent. The percentage share of deaths related to synthetic opioids not including methadone, such as fentanyl, increased from 8 percent to 18 percent; the share of cocaine-involved deaths increased from 11 percent to 13 percent; and the share of deaths related to psychostimulants such as methamphetamine went up from 5 percent to 11 percent.
Meanwhile, the percentage share of prescription drugs oxycodone and hydrocodone deaths went down from 29 percent to 24 percent, and methadone-involved deaths decreased from 12 percent to 6 percent.
The NCHS report relied on mortality data from the National Vital Statistics System and did not examine underlying cause of deaths.
In December, the NCHS reported that drug overdoses overall doubled from 2010 to 2014.
Last month, the Centers for Disease Control and Prevention said that the five leading causes of death in the US – cancer, chronic lower respiratory disease, heart disease, stroke and unintentional injuries, including overdoses – more acutely impact rural areas of the US as opposed to urban communities.
Life expectancy for Americans dropped in 2015 for the first time in more than two decades, with mortality rates on the rise for the 10 leading causes of nationwide deaths.
You can share this story on social media: