Fatal drug overdoses double from 15 yrs ago – gov't study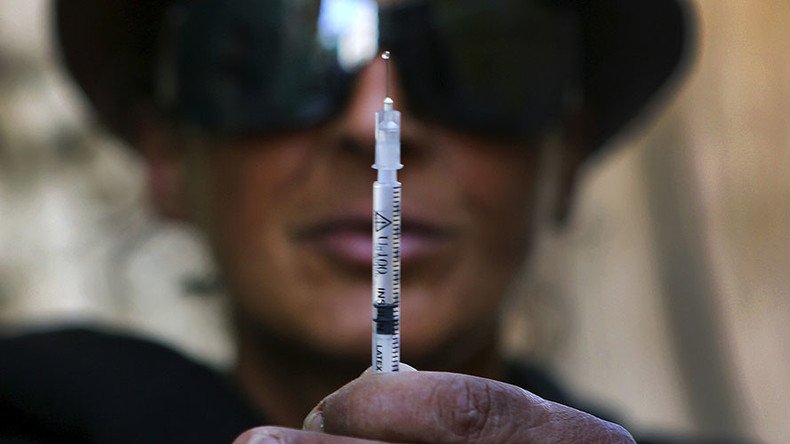 Drug overdoses in the US increased by 23 percent from 2010 to 2014 and have doubled since 2000, according to a new study released by the National Center for Health Statistics. Heroin accounted for about 25 percent of all overdose deaths in 2014.
In 2014, more than 47,000 people died of drug overdoses in the US – 14.7 deaths per 100,000 people, and nearly 8,400 more such deaths than were recorded in 2010, federal health researchers reported Tuesday. That is double the rate of 15 years earlier, according to the study, which analyzed drug overdose deaths from 2010 to 2014.
For the third straight year, heroin was the drug that led to the most overdose deaths (10,863, or 23.1 percent of all deaths) in 2014, followed by cocaine (5,856), oxycodone (5,417), alprazolam (4,217), and fentanyl (4,200).
Death rates have increased in that time period among all of the top ten overdose drugs in the US, which also include morphine (4,022), methamphetamine (3,728), methadone (3,495), hydrocodone (3,274), and diazepam (1,729).
Deaths from fentanyl, a synthetic opioid like the majority of drugs in the top ten list, have increased by a factor of 2.5 since 2010.
In 2010, heroin was fifth on the list of drugs that led to the most overdose deaths, with 3,020. Heroin overdose deaths in 2014 were more than triple that amount.
Methamphetamine overdose deaths doubled from 2010 to 2014, the study found.
The study says it is unique in that it includes information on particular drugs that led to overdose deaths rather than broader categories such as opioids or stimulants.
"The granularity gives us a better picture of which drugs are involved," Margaret Warner, an epidemiologist with the National Center for Health Statistics, told PBS NewsHour.
The study also found that about half of those who overdosed in 2014 used more than one drug in the process.


In a separate analysis released this week, opioid deaths were found to have exceeded gun homicides in the US, according to the US Centers for Disease Control and Prevention.
The boost in opioid deaths can be attributed to "two driving forces," CDC director Tom Frieden said.
"First, doctors are prescribing way too many opioids, for too many conditions, for too long, for too many patients. And this is a major problem," Frieden told PBS.
"Second, there's been a flood of illegal opioids, not only heroin, but also synthetic fentanyl and drugs that are inexpensive and widely available."
The new figures add to the many grim statistics of late regarding America's opioid epidemic. A recent study found a 500 percent increase from 2004 to 2013 in opioid-related problems among pregnant women and infants in rural areas, while the number of children and adolescents hospitalized for prescription opioid poisoning has doubled in the last two decades, a separate study found.
Additionally, one in three adults prescribed opioids over a long-term period to address pain issues say they are dependent on their respective drug.
Meanwhile, the drug war in the US rages on despite ongoing efforts to decriminalize or legalize barred substances like marijuana. In October, the FBI reported that US law enforcement made a marijuana-related arrest once every 49 seconds, or more than 600,000, in 2015, mostly for possession and not sale or cultivation. Civil rights advocates have said that, for all illicit drugs, arrests in the US reached 1.25 million in 2015.
In September, a study showed a decline in opioid use in states that had legalized medical marijuana.
You can share this story on social media: