500% growth in infants in rural areas showing up addicted to heroin, opioids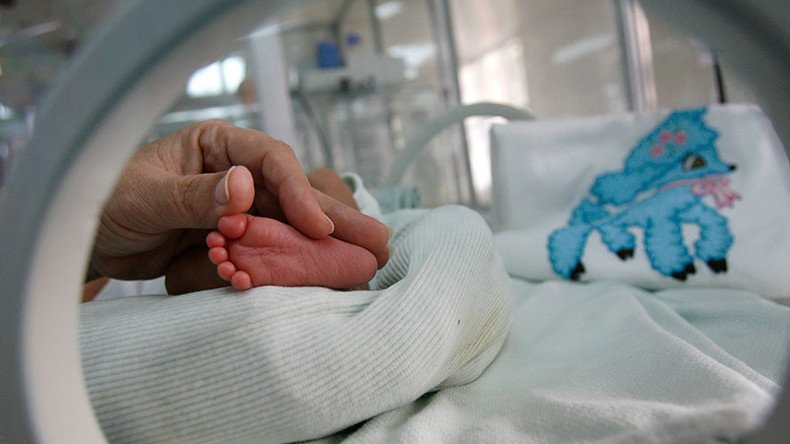 A new study found heroin and opioid-related problems are showing a 500 percent increase among pregnant women and infants in rural areas in less than a decade. Among the problem are babies are being born with painful withdrawal symptoms.
"When they are born, because they're no longer being exposed to an opiate, they're going to go through withdrawal. That is what we deal with. We deal with babies going through withdrawal," Dr. Sean Loudin, the medical director of a neonatal therapeutic unit at Cabell Huntington Hospital told KTLA.
The infants' withdrawals signs include high-pitched, inconsolable screaming. They also shake, vomit and suffer from diarrhea.
Researchers found neonatal abstinence syndrome, a set of problems experienced by newborns exposed to opiate drugs in the womb, increased from 1.2 to 7.5 percent per 1,000 hospital births among rural infants.
Researchers used data from the National Inpatient Sample for neonatal births andobstetric deliveries between 2004 and 2013.
In 2012-13, infants in rural areas comprised 21.2 percent of all infants with neonatal abstinence syndrome -- a significant increase from 2003-2004, when they only comprised 12.9 percent.
Researchers said rural infants and mothers were also more likely to be from low-income families, have public insurance, and be transferred to another hospital following delivery versus infants and mothers from urban areas.
Among urban infants the increases grew from 1.4 percent to 4.8 percent per 1,000 hospital births, a 242 percent growth.
The faster rates are showing up in rural communities rather than urban setting and are the latest toll in the addiction crisis taking toll in small towns.
"The most alarming thing to me was the growing disparity that we are seeing between rural and urban areas," said Dr. Nicole Villapiano, the study's lead researcher and a pediatrician from C S Mott Children's Hospital at the University of Michigan.
Villapiano and her co-authors said the dramatic increase between rural and urban areas "highlights the urgent need of policymakers to appropriate funding for clinicians and programs that could improve access to opioid prevention and treatment services for rural women and children."
"That in rural areas is where the real challenge lies," Villapiano said.
Nationwide, nearly 22,000 babies were born with the syndrome in 2012, a five-fold increase since 2000, according to the National Institute on Drug Abuse.
Doctors and nurses statewide commonly use a version of the Finnegan Neonatal Abstinence Scoring System, a tool developed in the 1970s, to determine whether a drug-exposed baby needs treatment.
If the babies score high enough, medicines like morphine are commonly used to manage their withdrawal symptoms. Morphine depresses the symptoms but prolongs the time the baby needs to stay in the hospital after birth.
The results were published on Monday in JAMA Pediatrics.
You can share this story on social media: