Protester shouting 'fascist' pulled from Trump's CPAC speech (VIDEO)
Published time: 24 Feb, 2017 16:22
Edited time: 25 Feb, 2017 13:34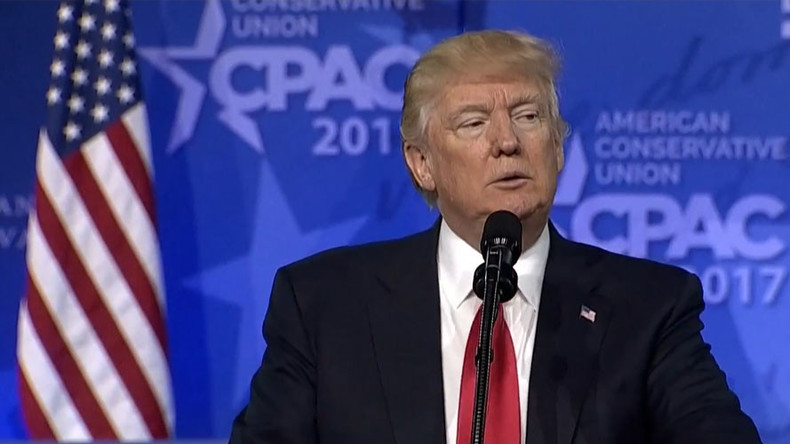 A protester was pulled from US President Donald Trump's speech to the annual Conservative Political Action Conference (CPAC) at the Gaylord National Resort and Convention Center outside Washington, DC on Friday.
In a wide-ranging speech, the president repeated his attack on what he labelled as the "fake media" and made numerous promises to uphold conservative values, including protecting the Second Amendment, which grants US citizens the right to bear arms.
READ MORE: US President Donald Trump speaks at Conservative Political Action Conference
One member of the audience was forcibly escorted from the building by security personnel during the speech.
Asawin Suebsaeng, a member of the media who works for the Daily Beast, reported on Twitter that the attendee was removed because he had shouted "fascist" at the president. The exclamation can be heard at around 0.06 in the video above.
only one protester I'm counting so far who's been thrown out for shouting "FASCIST" in the crowd.

— Asawin Suebsaeng (@swin24) February 24, 2017
A small group of protesters also gathered outside the building in advance of the president's arrival.
Days before the conference got underway, it had already hit the headlines for inviting then-Breitbart technology editor Milo Yiannopoulos to speak. CPAC subsequently withdrew the invitation when footage of Yiannopoulos making apparently pro-pedophilia comments re-emerged, and he has since resigned from Breitbart.
READ MORE: Milo Yiannopoulos resigns from Breitbart News amid pedophilia comments backlash