Milo Yiannopoulos resigns from Breitbart News amid pedophilia comments backlash
Published time: 21 Feb, 2017 20:11
Edited time: 25 Apr, 2018 12:13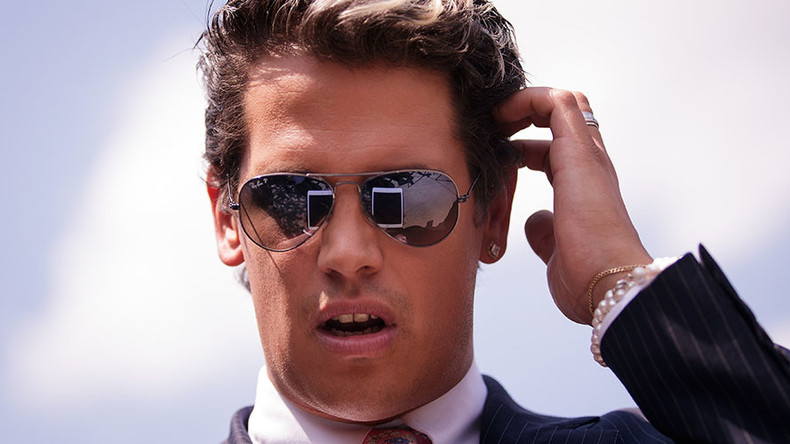 Senior Breitbart editor and alt-right figure Milo Yiannopoulos has resigned from Breitbart News following a scathing backlash after he apparently defended pedophilia.
Yiannopoulos issued a statement announcing his departure from the conservative news organisation thanking the company for the freedom to "carry conservative and libertarian ideas." He also revealed plans for a new media venture during a press conference he held in New York.
"I would be wrong to allow my poor choice of words to distract from my colleagues reporting, so today I am resigning from Breitbart, effective immediately. This decision is mine alone."
It was revealed Monday that publisher Simon & Schuster was pulling a book deal agreed with Yiannopoulos in the wake of the backlash.
The British Breitbart news editor was also dropped from the speakers at the Conservative Political Action Conference (CPAC )in Maryland following the emergence of the video clips. "We get hung up on this sort of child abuse stuff to the point where we are heavily policing consensual adults," he purportedly said.
Yiannopoulos apologized to child abuse victims for the remarks at a press conference Tuesday but qualified that he believed the tapes were selectively edited and taken out of context by the media.
"I've reviewed the tapes that appeared a few days ago and I don't believe they reflect what's been reported."
Yiannopoulos shared his experience of child abuse, explaining that his experience as a victim made him feel he could say what he liked on the subject.
"My own experiences as a victim led me to believe I could say anything I wanted to on this subject, no matter how outrageous."
He repeated that he was disgusted by pedophilia and had exposed three child abusers during his journalistic career.
Speaking about his resignation, he said that "Breitbart News stood by me while others caved," and praised editor-in-chief of Breitbart Alex Marlow and former chair Steve Bannon who he said brought him into Breitbart.
He revealed plans for a new media venture focusing on entertainment and education but said he does not intend to go head-to-head with Breitbart.
Despite his original publisher dropping his book deal, Yiannopoulos was adamant Dangerous will be released later this year, saying he had received interest from other publishing firms.
Yiannopoulos criticized the media for waiting for a year to highlight the tapes and called the actions "a cynical media witch hunt from people who don't care about children."
"They only care about bringing me down," he added, while doggedly declaring that nothing will stop him from being "outrageous and provocative."
"I've never apologized before and I don't intend to do it again," he said, highlighting that his apology was directed to other victims of abuse. His message for them was, "Don't allow child abuse to define you."
Protests have been reportedly taking place outside the press conference in New York.
My source told me that protesters chanted "Black, white, every race / punch a Nazi in the face" as the chased #Milo off

— Alexander Rubinstein (@AlexR_DC) February 21, 2017
Earlier this month, riots broke out at UC Berkeley prior to a scheduled talk from Yiannopoulos, leading to the cancelation of the event.
READ MORE: Riot breaks out at UC Berkeley amid protest of Breitbart editor's speech (VIDEO)