'No place in America for hatred': Pence condemns anti-Semitism at vandalized Jewish cemetery
Published time: 23 Feb, 2017 01:01
Edited time: 23 Feb, 2017 12:43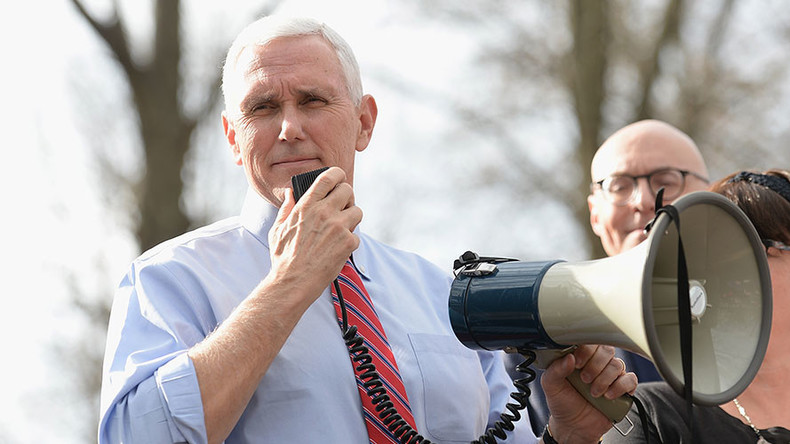 Vice President Mike Pence made an unannounced stop to tour a vandalized Jewish cemetery in Missouri, where he helped clean up the toppled graves and strongly condemned anti-Semitism. He also praised the local Jewish community.
On Wednesday afternoon, Pence and Missouri Governor Eric Greitens (R) visited the Chesed Shel Emeth Cemetery in University City, where more than 150 headstones were toppled and broken on Sunday evening. The damage was concentrated in an area holding the cemetery's oldest graves.
"There is no place in America for hatred, prejudice, or acts of violence, or anti-Semitism," Pence said, speaking through a bullhorn.
"I must tell you that the people of Missouri are inspiring the nation by your love and care for this place and the Jewish community," he told volunteers who were there to clean up the vandalism. "I want to thank you for that inspiration. For showing the world what America is all about."
Pence and Greitens joined more than 100 volunteers who were cleaning up the cemetery, straightening the headstones and assessing the damage. The two men raked leaves.
They also heard a prayer from a rabbi during an interfaith vigil.
The Muslim community has raised nearly $100,000 to repair the Jewish cemetery.
Earlier on Wednesday, Pence visited the Fabick Cat headquarters in Fenton, another St. Louis suburb. There, he also spoke out against the vandalism and anti-Semitism during a speech on job growth. He began by citing President Donald Trump's remarks against hatred at the National Museum of African American History and Culture in Washington, DC on Tuesday.
"Speaking just yesterday President Trump called this, 'a horrible and painful act.' And so it was. That, along with other recent threats to Jewish Community Centers around the country," Pence said. "He declared it all a sad reminder of hate, prejudice and evil. We condemn this vile act of vandalism and the people who perpetrated it in the strongest possible terms."
Pence also shared a story about visiting the Dachau concentration camp outside of Munich, Germany last week. He and his family spoke with a 93-year-old man who had been a prisoner there, who told them of his "hellish existence in the waning days of the war," but then "looked up at me with a smile and said, 'Then the Americans came,'" the vice president said. The man asked Pence to "thank every one of those soldiers for what they did."
Along with the vandalism at the Chesed Shel Emeth Cemetery, there have been several strings of bomb threats called in to Jewish community centers across the US since the beginning of the year. On at least four different occasions, beginning January 9 and as recently as Monday, were targeted by what a security company says may be a serial caller. Trump has been heavily criticized for not condemning the recent spate of threats and incidents of vandalism targeting the Jewish community quickly or strongly enough.
Even the president's remarks on Tuesday were denounced as too little, too late. In one instance, the Anne Frank Center for Mutual Respect called Trump's remarks "a Band-Aid on the cancer of Anti-Semitism that has infected his own administration," and a "pathetic asterisk of condescension after weeks in which he and his staff have committed grotesque acts and omissions reflecting Antisemitism, yet day after day have refused to apologize and correct the record."
Several people on social media said that Pence's remarks and visit to the cemetery were more in line with what Trump needed to have done to placate the critics, but others said that what is needed is action, not more words.
Others praised the vice president for "a true act of kindness."