Bomb threats reported at Jewish community centers in 6 states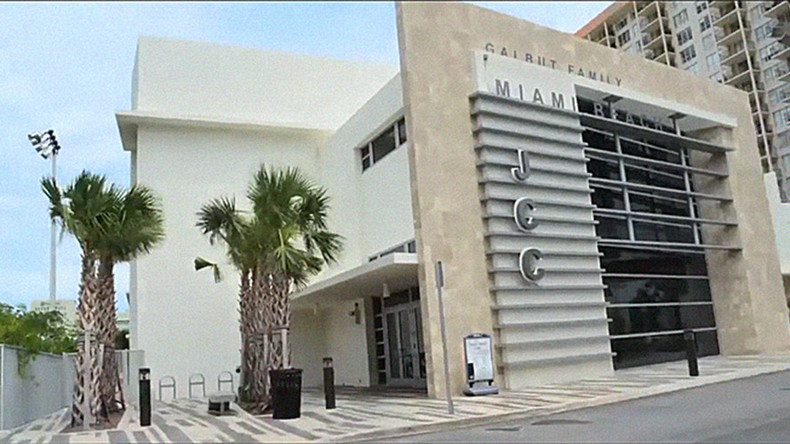 Multiple Jewish community centers in Delaware, Florida, Maryland, New Jersey, South Carolina and Tennessee have been evacuated due to bomb threats. Similar scares in the UK were determined to be hoaxes.
The first threat was called in to the Miami Beach Jewish Community Center (JCC) in Florida around 10:45am local time. Within two hours, similar threats were called in to at least three other JCCs in Florida, including one in neighboring Miami, as well as centers in Nashville, Tennessee; Columbia, South Carolina; Wilmington, Delaware; Tenafly, New Jersey; and Rockville, Maryland.
Hundreds of people, mostly preschool children, were evacuated from the various buildings; many have since been let back in after police searched the premises.
Update: @MiamiBeachPD investigating bomb threat received at JCC along Pine Tree Drive. No other locations affected on Miami Beach.

— Miami Beach Police (@MiamiBeachPD) January 9, 2017
Only a handful of people were evacuated from the Miami Beach JCC because it only handles before- and after-school care, law enforcement told WPLG. Miami Beach police quickly searched the building and gave the all-clear to reopen.
Within minutes of the Miami Beach threat, however, the Alper JCC in neighboring Miami received a similar phone call. About 450 students and 70 staff members were evacuated due to the bomb scare, Miami-Dade Fire Rescue told WSVN. The building reopened around 1pm local time.
The threat came from a local phone number, WFOR reported.
Shortly after, a JCC in Orlando, Florida was evacuated due to a bomb threat, but no explosives were found, according to WKMG.
Around 11:30am ET, JCCs in Nashville and Columbia both received phone calls that there were bombs located on the premises. About 100 people were evacuated due to the threat in Tennessee, but the police determined it was a hoax in less than two hours, the Tennessean reported.
"We've taken all the necessary precautions that you would in a situation like this," Mark S. Freedman, executive director of the Jewish Federation of Nashville and Middle Tennessee, told the paper.
"This is a threat against the entire community," he added. "Everyone should be aware of that."
In South Carolina, the Columbia Fire Department and the bomb squad searched the evacuated JCC and found nothing, WIST reported.
The call to the JCC in Wilmington came in around 11:45am. Four facilities on the campus were evacuated, including the JCC, the Jewish Federation of Delaware, the Albert Einstein Academy elementary school and Jewish Family Services of Delaware, Jewish Federation of Delaware CEO Seth J. Katzen told the Wilmington News Journal. The site is not expected to be cleared for hours, according to police.
"While this threat cannot be taken lightly, our community immediately responded to ensure the safety of our children, guests and staff," Katzen said. "It is reassuring to know we have the ongoing support of our local law enforcement and area businesses who responded in our time of need."
We received a threat to our building, and in an abundance of caution we have evacuated. Authorities are investigating. EVERYONE IS SAFE!

— JCA of Jacksonville (@JCAJAX) January 9, 2017
Around noon, threats were made to Jewish centers in Jacksonville and Tenafly. The facility in northern Florida was evacuated out of "an abundance of caution," but everyone was safe and allowed back in the building just over an hour later, the Jacksonville JCC said.
Outside New York City, the Tenafly JCC evacuated a preschool, senior center and adult day care facility for people with disabilities as a precaution, WNBC reported.
"We know of NO immediate threat to our JCC, we have made these adjustments as part of our ongoing effort to consistently review our security program and put in place the recommendations of well qualified security professionals," a neighboring JCC in West Orange, New Jersey, said in an email to its members, according to WNBC. The center enhanced its security procedures, including posting its guard in a more visible location, rotating guards on patrol and installing brighter lighting in the garage.
Just outside of the nation's capital, the JCC in Rockville received a phoned-in bomb threat minutes before noon. About 350 people ‒ including 200 preschoolers, 60 staff members and people attending fitness classes ‒ were evacuated from the building, Michael Feinstein, the executive director of the Rockville JCC told Bethesda Magazine.
"This is the new reality we have to deal with," he said.
The Bender JCC has been safely evacuated due to a phone threat. The building is now closed. We'll re-open once the issue has been resolved.

— Bender JCC (@BenderJCC) January 9, 2017
The all-clear was given around 1:30pm local time after Montgomery County Police and firefighters searched the building. The nearby Charles E. Smith Jewish Day School was not evacuated, Washington Jewish Week reported.
In Britain, bomb threats were made to schools in three London neighborhoods on Monday morning. Nearby, non-Jewish schools were also placed on lockdown while authorities investigated. Police determined the calls were hoaxes; however, the Community Security Trust, an organization that provides physical protection to Britain's Jews, alerted all Jewish schools in the country, the Jewish Chronicle reported.
US federal law enforcement agents with the Bureau of Alcohol, Tobacco and Firearms (ATF) and the FBI are assisting local authorities at the various JCCs. It is unclear if the bomb threats are linked in any way.
@jarantala I work for Kosher Network International here in Jax(down the street from JCA) we have reports that 20 JCCs have threats

— Deborah L.G. Shapiro (@DLGShapiro) January 9, 2017
Up to 20 JCCs may have received threats, Kosher Network International reported, though it's unclear if that refers to centers solely in the US or around the world.


You can share this story on social media: