'My spirit will rise': White supremacist mocks his death sentence over Jewish center murders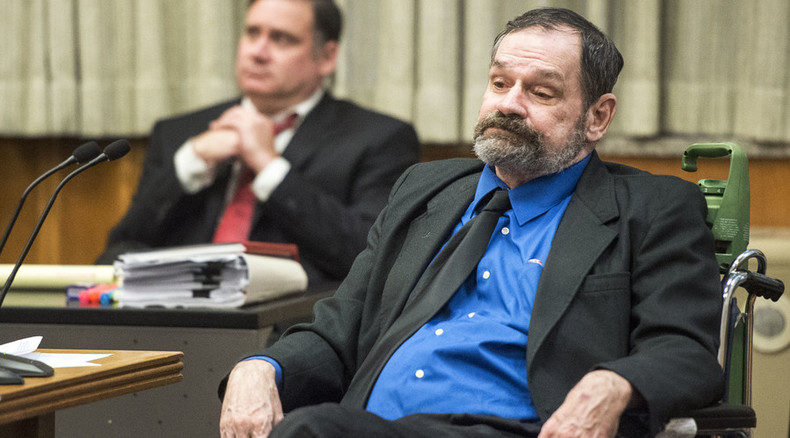 A white supremacist who was given a death sentence for killing three people outside Jewish centers in Kansas responded by giving the 'Heil Hitler' salute and claiming his spirit will one day "rise from the grave." He was forcibly removed from the courtroom.
Johnson county District Court Judge Thomas Kelly Ryan upheld the jury's recommendation on Tuesday that 74-year-old Frazier Glenn Cross would be sentenced to death by lethal injection for the April 2014 shooting deaths of three people outside two Jewish centers in Kansas.
Cross gave the Nazi salute after hearing the sentence.
On his way out of the courtroom, Cross said: "One day my spirit will rise from the grave and you'll know I was right. I'm a happy man."
READ MORE: Anonymous releases list of alleged KKK members, saying some are 'dangerous, sociopathic'
A former senior member of the Ku Klux Klan, Cross was convicted in September of three counts of attempted murder for the shooting deaths of three people outside the Jewish Community Center of Greater Kansas City and a Jewish retirement home in the city of Overland Park.
He was also convicted of three counts of attempted murder for shooting at three other people.
However, despite Cross's intention to kill Jews, those he murdered – Reat Underwood, 14; his grandfather William Corporon, 69; and Terri LaManno, 53 – weren't actually Jewish.
"I wanted to kill Jews, not Christians and I do regret it," Cross said in court. Throughout the trial, however, he faulted the victims for going to Jewish centers.
Cross, who represented himself, said on Tuesday that he wanted to kill Jews because he believes they control the media, financial institutions and the government.
READ MORE: White supremacist jailed for life over Lee Rigby revenge attack
"I can't get a fair trial because of you. This court, it is because you're under rule of the Jews, and you support yourself accordingly," Cross said, as quoted by local CBS affiliate KCTV.
He said "death to the Jews" at the end of his argument, and dared jurors to give him the death penalty.
However, Cross is likely to die from natural causes before he is put to death. The 74-year-old is said to be suffering from chronic emphysema, and a doctor testified during the trial that he likely has five to six years left to live.
Although Kansas restored the death penalty in 1994, no one has been executed in the state since 1965.