Anonymous releases list of alleged KKK members, saying some are 'dangerous, sociopathic'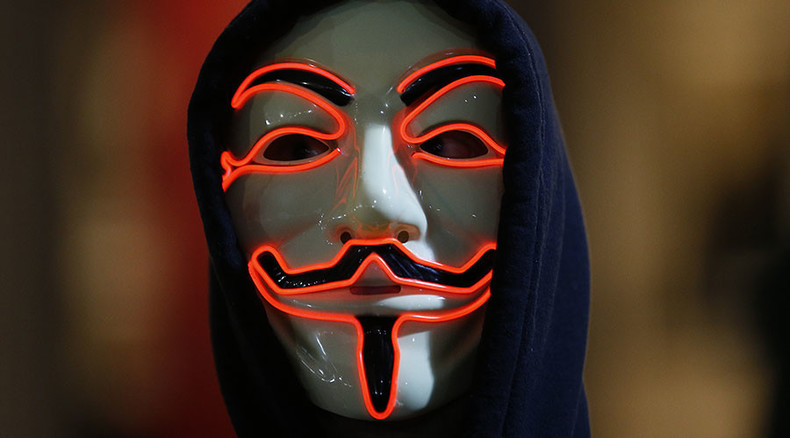 Activists from the Anonymous group have released a list of hundreds of alleged Ku Klux Klan (KKK) sympathizers on the internet. The group said the data dump was a "form of resistance against the violence and intimidation tactics" used by members of KKK groups throughout history.
According to the hacktivist group, it began compiling the list about 11 months ago, following the killing of Michael Brown, the 18-year-old African American fatally shot by police officer Darren Wilson in Ferguson, Missouri, last August.
Last year the KKK pledged to use "deadly force" against those protesting the killing of the teen.
Anonymous said it had collected data for its so-called "Operation KKK" through a range of ways, using publicly available information, "interviewing expert sources" and resorting to covert, "digital espionage."
"Members often told on themselves to us about their connections with the KKK during various chat conversations we had with Klan members and affiliates throughout the course of our operation. You never know who you are talking to on the internet," the group said.
The activists said the list features "official members of various KKK groups throughout the United States as well as their closest associates (most are also in other extremist hate groups)." Among the names mentioned in the document is Frazier Glenn Miller, the white supremacist who killed three people at a Jewish community center in Kansas City. In late August, the former "Grand Dragon" of the Carolina Knights of the Ku Klux Klan, 74-year-old Miller was convicted of capital murder. During his trial, he admitted to killing 14-year old Reat Underwood, his grandfather William Corporon, 69, and Terri LaManno, 53, in April 2014.
Some members were listed with their alleged aliases, Anonymous said, noting that the Klan "sometimes hides behind several online identities. Given name or alias, these are the real people underneath the hoods."
Anonymous stressed that many Klan members change Klan affiliations, switching from being Klan members and neo-Nazis, sometimes even doing both. "Some members of this list are quite dangerous, sociopathic individuals," the hacktivist group said.
READ MORE: US mayors, senators deny KKK ties after being allegedly outed by Anonymous leak
The latest data uploaded came only a few days after Anonymous was mistakenly credited with posting a separate list containing the names of several US lawmakers. Four US Senators and five mayors, including Lexington Mayor Jim Gray and Knoxville Mayor Madeline Rogero, found their names sitting next to other KKK members when the list was leaked on Sunday. One of the "accused," Mayor Tom Henry of Fort Wayne, Indiana, has called the claims "irresponsible," stating that "racism has no place in our society" and his life.
Anonymous later said it had nothing to do with that list.
Hacktivists initially planned to kick off their own operation on November 24, the one-year anniversary of a Missouri grand jury's decision not to indict a police officer in the killing of Michael Brown in Ferguson. The hacktivist group later moved it to November 5 so that it would coincide with the worldwide Million Mask March.
You can share this story on social media: