'Without MSM fake news filter': Trump briefs Florida rally on US security, NATO & Syria safe zones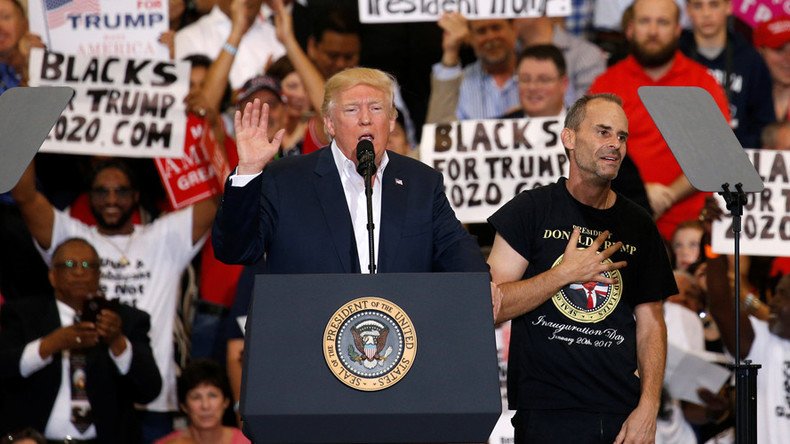 Rich NATO members must pay their fair share for its security, while Gulf states should cough-up for the creation of "safe zones" amid the mess the US left in Syria, Donald Trump told supporters in Florida, where he once again blasted MSM for their 'fake news' campaign.
READ MORE: 'Real leaks, fake news': Trump spars with hostile media in first solo press conference
In his first post-inauguration campaign-style rally, President Trump told the crowd inside an airplane hangar in Melbourne, Florida, that the purpose of the event was to speak to the American people "without the filter of the fake news."
Trump continued his attacks on the "dishonest media," which he said, "published one false story after another, with no sources."
"They are part of the corrupt system," Trump said of the media, just days after Thursday's 76-minute press conference where he attacked the media for spreading 'fake news.'
Apart from speaking on the need to curb illegal immigration as part of his national security strategy, Trump also touched on his new administration's commitment to NATO, urging all member states to contribute 2 percent of their GDP to the alliance's budget.
"We are fighting battles that no longer help us. I'm a NATO fan but many of the countries in NATO, many of the countries that we protect, many of these countries are very rich countries – they are not paying their bills," Trump said.
The new president also voiced support for the creation of what he calls "safe zones" in Syria and the wider Middle East in general.
"We are going to have the Gulf States pay for those safe zones," Trump told supporters at the event dubbed, "a campaign rally for America," by the White House.
"Instead of peace, we see wars that never end and conflicts that never seem to go away. We don't fight to win; we fight politically correct wars," he noted.
The US leader did not elaborate on the details of the proposed "safe zones", but noted that people should be able to "stay there and live safely in their cities" until their country is stabilized.
"We've allowed thousands and thousands of people into our country and there was no way to vet those people, there was no documentation there was no nothing. So, we're going to keep our country safe," Trump promised.
The idea of creating so-called safe zones in Syria has previously been endorsed by Saudi Arabia, the United Arab Emirates, and Turkey.
Moscow and Damascus oppose the initiative.
"Our American partners did not consult with Russia [regarding the 'safe zones']. It is their sovereign decision," Kremlin spokesman Dmitry Peskov said last month when the idea first emerged.
According to a document reportedly seen by Reuters last month, Trump wants the Pentagon and State Department to compile a plan for setting up the 'safe zones' within 90 days of the presidential order being signed. That draft, however, did not provide any details on what the zones would require in terms of security or where they might be located.
READ MORE: Trump on Russia: Getting along is great, sinking their ship isn't
The US president argued that creating such zones could help cope with the influx of migrants not only to the EU but also into the US, as Trump defended his decision to issue an executive order banning citizens from seven predominantly Muslim countries from travel to the US.
"The president has the right to keep people out if he feels it's not in the best interests of our country," Trump said promising to draw up a new executive order to replace the stalled one.
He wrapped up the speech with his trademark campaign slogan: "We will make America great again…greater than ever before."
You can share this story on social media: