Trump on Russia: Getting along is great, sinking their ship isn't
Donald Trump would love to get along with Moscow, but due to "false, horrible and fake" news reporting, Americans would likely see it as weakness and would rather praise as "great" an order to sink a Russian ship, the US president has said.
"Tomorrow you'll say: 'Donald Trump wants to get along with Russia. This is terrible!' It's not terrible. It's good," Trump said during his 90-minute press conference on Thursday in which he mounted a vigorous offense against "fake news" and its impact on Russian-US relations.
"I know politically [getting along with Russia] is not very good for me… The greatest thing I could do is shoot that ship that's 30 miles off shore right out of the water. Everyone in this country is going to say 'Oh, that's so great!' That's not great… I would love to get along with Russia."
The US leader was referring to the presence of a Russian naval ship, the Viktor Leonov, in international waters off the East Coast of the United States, which has made the US media apprehensive in recent days.
READ MORE: 'Real leaks, fake news': Trump spars with hostile media in first solo press conference
Trump urged US media not to obstruct the potential rapprochement between the world's two biggest nuclear powers with "fabricated" news about his alleged ties to the Kremlin.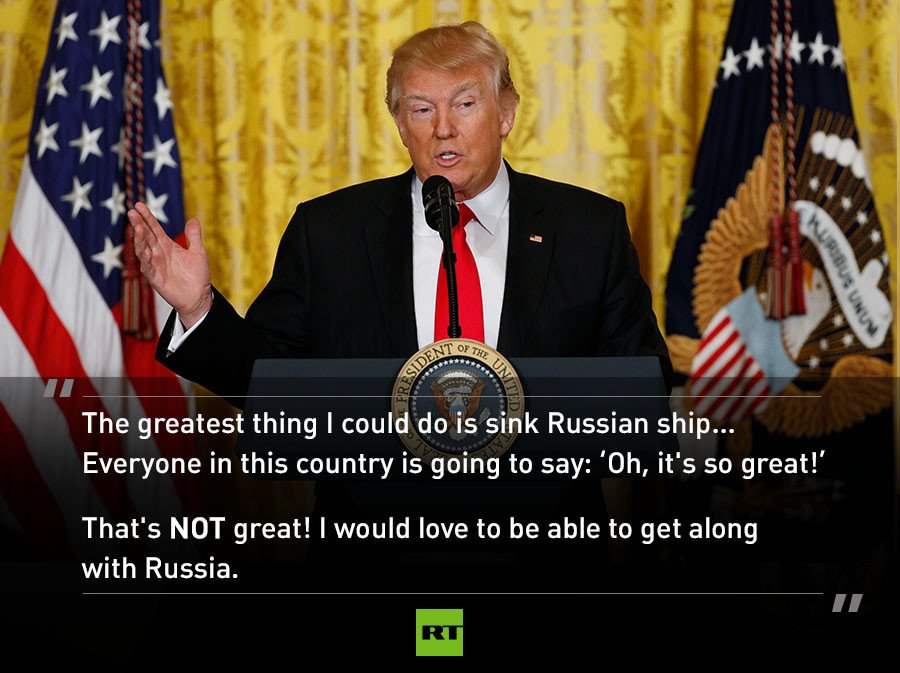 "I want to just tell you, the false reporting by the media, by you people, the false, horrible, fake reporting makes it much harder to make a deal with Russia," Trump said. "And probably Putin said: '…It's going to be impossible for President Trump to ever get along with Russia because of all the pressure he's got with this fake story.' Okay? And that's a shame."
Trump firmly rejected speculation that Vladimir Putin was "testing" him, as voiced by one of the reporters, saying that "Putin probably assumes that he can't make a deal with me anymore because politically it's unpopular for a politician to make a deal."
"That's a shame because if we could get along with Russia – and by the way, China and Japan and everyone…" Trump told reporters. "If Russia and the United States actually got together and got along — and don't forget, we're a very powerful nuclear country and so are they... If we have a good relationship with Russia, believe me, that's a good thing, not a bad thing," he stressed.
The US leader also noted that he wants to "do the right" thing for the American people and try to make a deal with the Kremlin. But being "tough" on Russia will not make that deal happen, Trump assured the reporters.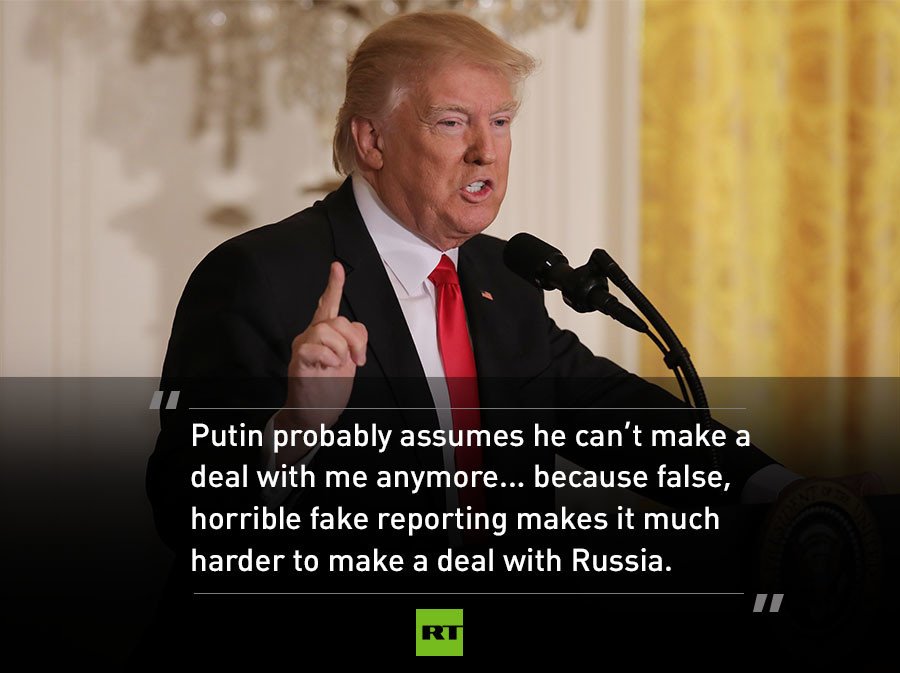 "Now, I don't know that we're going to make a deal. I don't know. We might," the President noted. "I want to do the right thing for the American people. And to be honest, secondarily, I want to do the right thing for the world."
Trump has faced increased criticism from Democrats and the media over his camp's alleged ties with Russia amid unsubstantiated reports of the Kremlin's meddling in the US electoral process. Russia has dismissed the claims as "nonsense," repeatedly denying that it was involved in the US election in any way.
READ MORE: A disastrous combination: Trump's ego and the media's God complex
Yet the obsession with the alleged Trump-Russia links reached new, almost hysterical heights earlier this week after Michael Flynn's resignation as national security advisor following his misleading briefing to Vice President Mike Pence about his phone conversations with the Russian Ambassador to the US.
You can share this story on social media: