'Honest insight': Record-breaking petition calls on Trump to release tax returns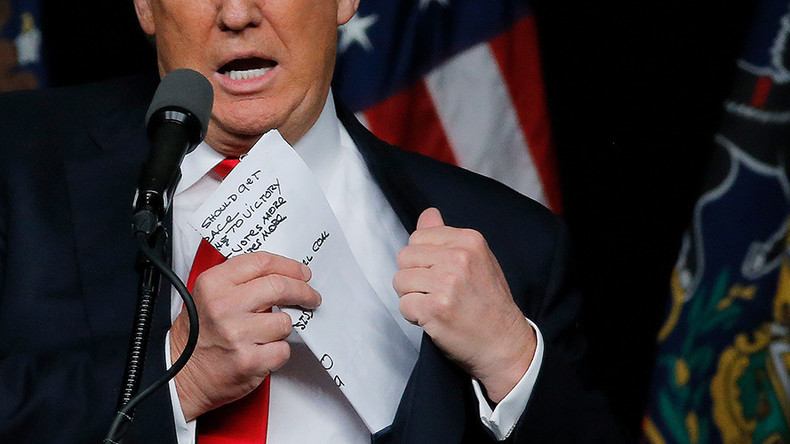 More than 375,000 people have signed a petition on the White House website calling for President Donald Trump to release his tax returns, breaking the record for any petition on the site in under six days.
Trump was the first major party presidential candidate not to release tax returns in decades. During his campaign, Trump said that he would release them once he was no longer under audit.
Since taking the oath of office, however, Trump has stated that he has no intention of ever releasing his tax returns anytime soon.
"You know, the only one that cares about my tax returns are the reporters, OK?" Trump told reporters during his first press conference as president, according to a transcript from CNBC.
"I won. I became president," Trump said. "I don't think they care at all."
As of Thursday, 375,255 people have signed the petition, which reads: "The unprecedented economic conflicts of this administration need to be visible to the American people, including any pertinent documentation which can reveal the foreign influences and financial interests which may put Donald Trump in conflict with the emoluments clause of the Constitution."
The petition broke the previous record, which was in 2012, when 367,180 people signed a petition over 30 days that would make the government "legally recognize Westboro Baptist Church as a hate group."
Petitions on the We The People platform were launched by the Obama administration to empower the American people to "take this action like never before – it's a way for anybody, anywhere, to speak directly to the government and become an agent for change," the site says.
Under the previous administration, petitions that reached 100,000 signatures in 30 days were usually reviewed by the White House. However, there is no rule that forces the Trump administration to review any petitions from the site.
On Sunday, Counselor to the President Kellyanne Conway appeared on ABC's "This Week" to respond to the petition, saying, "He's not going to release his tax returns. We litigated this all through the election. People didn't care. They voted for him."
Conway later restated the president's position, tweeting: "POTUS is under audit and will not release until that is completed."
Before Trump took office, Senator Ron Wyden (D-Oregon), a member of the Senate's tax-writing committee, introduced a bill that would require Trump to release his tax returns "in order to give the public honest insight into the President-Elect's actions, values and foreign business dealings," the senator said.
Since the 1970s, the IRS has automatically audited every president's tax returns, and according to the IRS manual, every president's tax returns are "subject to mandatory review."
READ MORE: Trump calls for 20% import tax from Mexico to pay for border wall

Since his tax returns are private, the IRS would have to charge Trump with criminal tax fraud to release them without his approval.
"That's the only public information that you are going to have on anything," Michael Sullivan, a former IRS agent specializing in large-dollar cases, said, according to McClatchy DC.
You can share this story on social media: