Valium, couches & grizzlies: Twitter finds funny side of Senate confirmation hearings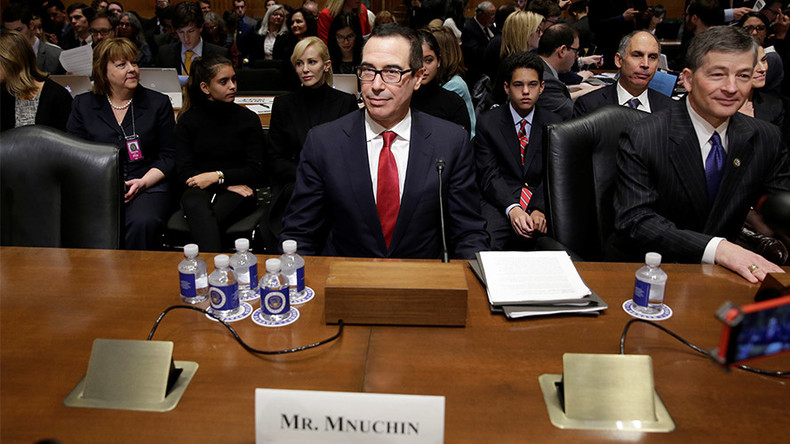 Senators appear to be a little loopy thanks to the number and the pacing of confirmation hearings for President-elect Donald Trump's Cabinet nominees. From offering each other valium to discussing fun on couches, the hearings have had moments of levity.
During the Senate Finance Committee hearing for Treasury nominee Steven Mnuchin on Friday morning, an uproar erupted thanks to what Senator Pat Roberts (R-Kansas) referred to as a "little pinprick of humor." After Sen. Ron Wyden (D-Oregon), the ranking member, blasted Mnuchin's record of foreclosures during his time as CEO of OneWest Bank ‒ including a 90-year-old woman who owed a grand total of 27 cents ‒ Roberts offered Wyden a little 'help.'
"Sen. Wyden, I've got a Valium pill here that you might want to take for a second round," Roberts joked. "Just a suggestion, sir."
Roberts then proceeded to begin his questioning of Mnuchin, before he was interrupted by Sen. Sherrod Brown (D-Ohio).
"I hope that that comment about valium doesn't set the tone for 2017 and this committee," Brown told the chairman. "I just can't quite believe that he would say that to a distinguished senator."
At that point, the committee ‒ and social media ‒ lost control.
It wasn't the only time the normally mind-numbing hearing captured Twitter's attention. "Octomom" began trending after Mnuchin said he found Nadya Suleman's situation one of the "most troubling" he'd dealt with. OneWest foreclosed on Suleman, the mother of octuplets, in 2009.
The Cayman Islands also made an appearance, thanks to a revised vetting questionnaire that Mnuchin submitted on Thursday.
"In his revised questionnaire, Mr. Mnuchin disclosed several additional financial assets, including $95 million worth of real estate," and that he's the director of an investment fund incorporated in the tax haven, Democratic committee staffers wrote in a memo. "Mr. Mnuchin has claimed these omissions were due to a misunderstanding of the questionnaire."
When questioned about it during the hearing, Mnuchin replied: "I think as you all can appreciate, filling out these government forms is quite complicated." He added that he had handed over 5,000 pages of disclosures. "Let me first say, any oversight, it was unintentional."
Over at the Senate Energy and Natural Resource Committee's confirmation hearing for former Governor Rick Perry (R-Texas) to be the energy secretary, the tone was a bit lighter – and less safe for work – thanks to an exchange between Perry and Sen. Al Franken (D-Minnesota), who used to write for the comedy sketch show "Saturday Night Live."
"Governor, thank you so much for coming into my office. Did you enjoy meeting me?" Franken asked.
"I hope you are as much fun on that dais as you were on your couch," Perry replied, causing the audience to burst out laughing after a beat. "May I rephrase that, sir?"
"Please. Please. Please. Oh my Lord. Oh my Lord," Franken replied.
"Well I think we've found our 'Saturday Night Live' soundbite," Perry said, laughing.
Earlier in the week, the Senate Health, Education, Labor and Pensions (HELP) Committee's confirmation hearing for Betsy DeVos to be education secretary became meme-worthy when Sen. Chris Murphy (D-Connecticut) asked if she believes guns have "any place in and around schools." DeVos referred to a story shared by Sen. Mike Enzi (R-Wyoming) about a school in his home state.
"I think probably there, I would imagine there is probably a gun in a school to protect from potential grizzlies," she said.
You can share this story on social media: