Rick Perry to head Energy, department he once sought to abolish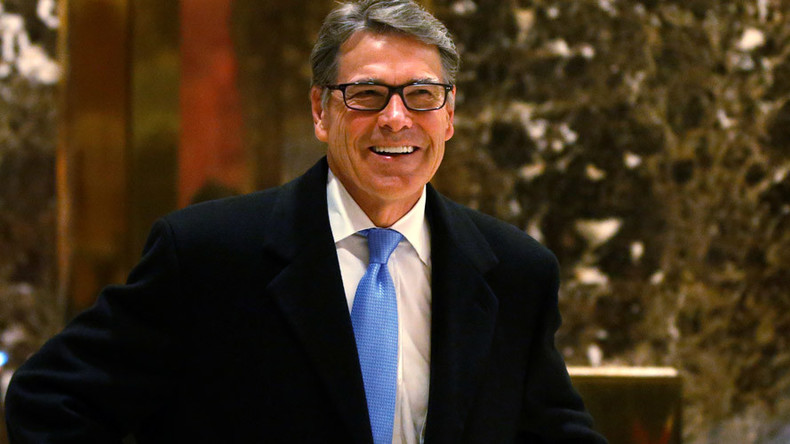 President-elect Donald Trump has officially selected Rick Perry to helm the Department of Energy. It was one of the three departments the former Texas governor vowed to get rid of while pursuing the 2012 GOP presidential nomination.
"As the Governor of Texas, Rick Perry created created a business climate that produced millions of new jobs and lower energy prices in his state, and he will bring that same approach to our entire country as Secretary of Energy," said President-elect Trump, according to his transition cabinet statement.
Energy is the very department that short-circuited Perry's presidential hopes at one point. During a televised debate in November 2011, Perry said he wanted to eliminate three government agencies, including the Department of Energy – but he could not remember the department's name.
"It's three agencies of government, when I get there, that are gone—Commerce, Education and the, um, what's the third one there? Let's see," he said.
Perry's campaign foundered on the gaffe, and he dropped out of the race after bad primary showings in Iowa and New Hampshire.
In 2015, Perry was one of the 17 GOP contenders for the presidential nomination, and the first to drop out, suspending his campaign in September.
Back in July that year, a month after Trump announced his own presidential bid, Perry blasted his candidacy as "a barking carnival act that can be best described as Trumpism: A toxic mix of demagoguery and mean-spiritedness and nonsense that will lead the Republican Party to perdition if pursued."
"Donald Trump's candidacy is a cancer on conservatism, and it must be clearly diagnosed, excised and discarded," Perry added. He later endorsed a fellow Texan, Senator Ted Cruz – but publicly endorsed Trump in May 2016, after Cruz suspended his campaign.
"He wasn't my first choice, wasn't my second choice, but he is the people's choice,"Perry told CNN.
I swore I wouldn't make any "leaving the country" comments, but if Rick Perry is going to have control over nuclear *anything*, I'm out.

— Moon Shrew (@baphometadata) December 13, 2016
Perry served as governor of Texas between 2000 and 2015. He is a graduate of Texas A&M University, and served in the US Air Force in the 1970s, reaching the rank of captain.
The Department of Energy is among the younger federal agencies, created in 1977 by President Jimmy Carter. It is responsible for the US nuclear weapons program and radioactive waste disposal, energy-related research and conservation. The DOE is a major government sponsor of research in the physical sciences, from energy to genomics.