St. Louis police publicly searched for, found no drugs in woman's vagina - lawsuit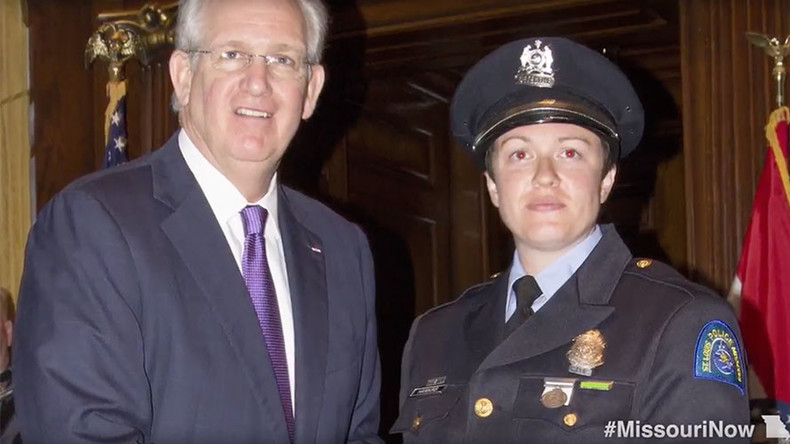 A female police officer in St. Louis publicly searched a woman's vagina in search of drugs while a male cop watched, but found nothing, according to a lawsuit. The officer later won a Missouri Medal of Valor for killing a suspect.
The reported sexual assault took place on October 19, 2012, according to the lawsuit, which was filed in November. Kayla Robinson, the plaintiff, said she was in a vehicle that was pulled over and searched in north St. Louis by officers with the St. Louis Metropolitan Police Department.
One of the officers, defendant Angela Hawkins, later wrote in an incident report that she thought Robinson was concealing drugs. In her lawsuit, Robinson admitted to handing Hawkins a small bag of marijuana, but the officer believed Robinson was also in possession of crack cocaine.
During the police search, Hawkins, a white woman, accused Robinson, a black woman, of hiding something in her pants, according to the lawsuit.
Despite her pleas for a cavity search to be conducted at the city jail, Robinson was then handcuffed and taken about 200 feet away to a tractor-trailer parking lot. Hawkins then called for rubber gloves, which were delivered by a male officer who stayed on the scene, the lawsuit said.
"Defendant Hawkins put the gloves on, turned Plaintiff around so as to face the male officer, and began unbuttoning Plaintiff's pants," the lawsuit said.
"At this time, Plaintiff was crying hysterically and begging Defendant Hawkins to take her to jail and search her there... Defendant Hawkins instead forced Plaintiff to bend over and placed her fingers inside Plaintiff's vagina... After finding no drugs on Plaintiff during the course of this unreasonable and unlawful search, Defendant Hawkins fastened Plaintiff's pants and slammed her with excessive force into the parked trailer."
Robinson was arrested on two counts of drug possession, but the city's Circuit Attorney never filed criminal charges, the lawsuit said.
Robinson would go on to file a complaint with the police department's internal affairs division. She never heard back from the department, she claimed in the suit.
Three years later, in 2015, she addressed the internal affairs division regarding the complaint. The division responded in a letter, claiming Hawkins would be "disciplined" for her actions, yet what punishment was involved was not explained to Robinson, according to the lawsuit.
Jeremy Hollingshead, an attorney for Robinson, called the St. Louis Metropolitan Police Department "one of the most corrupt police departments in the country" with a long legacy of racial discrimination.
"This is indicative of the St. Louis Metropolitan Police Department," Hollingshead said, according to the Riverfront Times. "They do it every single day. They target African Americans, oftentimes from northern areas of the city, and they try to shake them down. They make false allegations, threats against them, and their hope is that somebody is going to be weak enough to roll over and provide information to them."
The department does not comment on active litigation or officer discipline records, which are closed to the public, the St. Louis PD told the Riverfront Times.
In October 2013, Hawkins was awarded a 2012 Missouri Medal of Valor, which is dedicated"to a public safety officer who has exhibited exceptional courage, extraordinary decisiveness and presence of mind, and unusual swiftness of action, regardless of his or her own personal safety, in the attempt to save or protect human life."
The award was given to Hawkins based on her actions on March 29, 2012. That night, she and another police detective chased a suspect who had just fired at a uniformed police officer into an alley. Once there, after the suspect had collapsed while holding a "large gun with an extended magazine," Hawkins and the other detective killed the man.
You can share this story on social media: