Missouri Legislature upholds 'Stand Your Ground,' concealed carry law — requiring no permits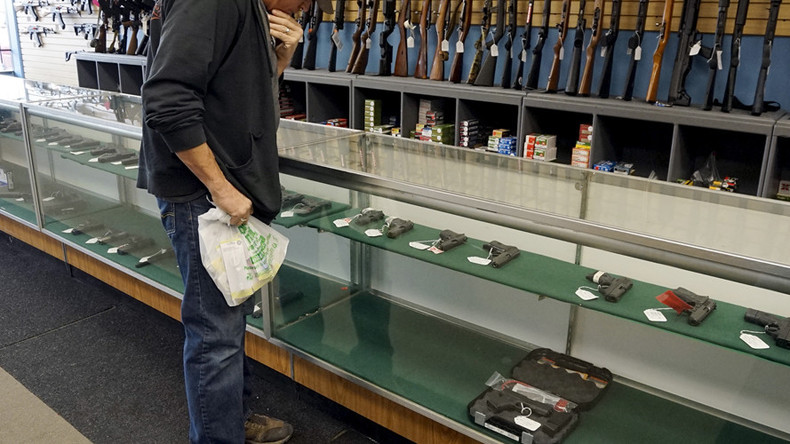 Missouri is now the first state since the 2013 acquittal of George Zimmerman for the murder of unarmed teenager Trayvon Martin to pass a so-called 'Stand Your Ground'  law that will allow use of deadly force in public without imposing a duty to retreat.
Republican supermajorities in the Missouri Legislature voted this week to override Democratic Governor Jay Nixon's veto of an omnibus gun bill that passed in the state legislative session earlier this year. The bill, Senate Bill 656, will considerably increase gun owners rights. It will allow use of deadly force against trespassers on one's own private property as long as a person "reasonably believes" shooting is "necessary to protect himself, or herself or her unborn child, or another against death, serious physical injury, or any forcible felony."
The law also "provides that a person does not have a duty to retreat from any place such person who is not engaged in an unlawful activity has a right to be."
The bill also will allow Missourians to carry concealed weapons without a permit, eliminating training requirements for concealed carry that are currently mandatory in the state.
Republican Senator Brian Munzlinger sponsored the bill, characterizing it as a basic right among "law-abiding citizens" in Missouri "to protect themselves and their families." Rep. Eric Burlison, leader of the bill in the House, called the bill vital to fulfill the US Constitution's Second Amendment protections for gun ownership.
Democratic opponents argued that the provisions will only lead to more gun violence, especially in urban areas. Senator Maria Chappelle-Nadal referenced details of Trayvon Martin's murder. George Zimmerman's 2013 acquittal for Martin's murder was due in no small part to Florida's 'stand your ground' law.
"What I don't want to get to is the point where there is a trigger-happy police officer or bad Samaritan like Zimmerman who says, 'Black boy in the hood. Skittles. Let's Shoot,'" said Senator Maria Chappelle-Nadal, who represents areas around St. Louis, including Ferguson.
Chappelle-Nadal added: "The targets in our area are black boys, not pheasants."
With use of a rarely-employed parliamentary maneuver, debate over the bill was cut off by Republicans in the state House after an hour and a half and after two hours in the state Senate.
The Missouri Police Chiefs Association, the Missouri Fraternal Order of Police, mayors of the state's urban centers in St. Louis and Kansas City, the Catholic Bishops of Missouri, and gun-control advocates like Moms Demand Action for Gun Sense in America lined up to oppose an override of the governor's veto.
The National Rifle Association, however, made the bill a top priority, sending lobbyists to the statehouse to encourage lawmakers on the fence about the veto override vote, according to ThinkProgress.
The 'Stand Your Ground' measure was originally introduced by state Senator Kurt Schaefer, once considered the frontrunner in the race for state Attorney General. That measure was later attached to the omnibus gun bill. Schaefer, a two-time winner of the 'Senator of the Year' award given by the Missouri Sheriff's Association, lost in the Republican primary in August despite receiving the NRA's endorsement.
"This is a great day for freedom in Missouri,"said Chris W. Cox, executive director of NRA's Institute for Legislative Action. "The legislature stood strong for the constitutional rights of law-abiding citizens by overriding Gov. Nixon's misguided veto."
Prior to Wednesday's vote, the NRA had used the recent massacres in San Bernardino and Orlando to argue for expanded gun rights in Missouri.
"If events in Orlando and San Bernardino have taught us anything it's that the need for self-protection can occur anywhere at any time,"said Lacey Biles, director of NRA State and Local Affairs, according to the St. Louis Post-Dispatch. "With this veto, Gov. Nixon proves he is more concerned about scoring political points with out-of-state gun control groups than securing the safety of law-abiding Missourians."
Sen. Munzlinger, the omnibus bill's sponsor, echoed those talking points prior to the veto override.
"In an era when we see radical Islamic terrorists shifting their focus to attacks on targets such as employee Christmas parties in San Bernardino or nightclubs in Orlando, we should be doing all we can to make sure the citizens of Missouri have the ability to protect themselves," Munzlinger said about the bill.
With passage of the bill, Missouri joins 10 other states that allow its citizens to carry concealed firearms without a permit, according to the NRA, and one of dozens of states with either 'stand your ground' provisions or court precedents that allow residents to use deadly force in the face of a threat in an area where they are lawfully present without a duty to retreat. No state has passed a 'stand your ground' law since 2011.
In the past decade, as Republicans have assumed solid control of the state Legislature, Missouri has repealed laws that required purchase permits and significant background checks of gun buyers. A 2014 study found that since those laws were repealed, the state's homicide rate has increased by more than 15 percent, as the national rate has dropped 11 percent. The gun homicide rate has increased by 20 percent in metropolitan areas, the study found, and gun suicides rose by 16 percent.
Kansas City Mayor Sly James, who tried to rally support for the veto ahead of this week's vote, has said the state's weakening of gun laws disproportionately impacts black youth in urban areas.
"I'm a black mayor in a state with a rural representative conservative legislature that gives the rights to carry arms to 19-year-olds — do you really think there's anything I can say that's going to bother them?" James told the New York Times last year.
"I'm tired of the fact that we have disproportionate numbers of African-Americans who are dying," he added. "Legislators, who are predominantly white, seem to ignore the racial implications of the laws they make."