Missouri governor rejects 'appointment' to indigent case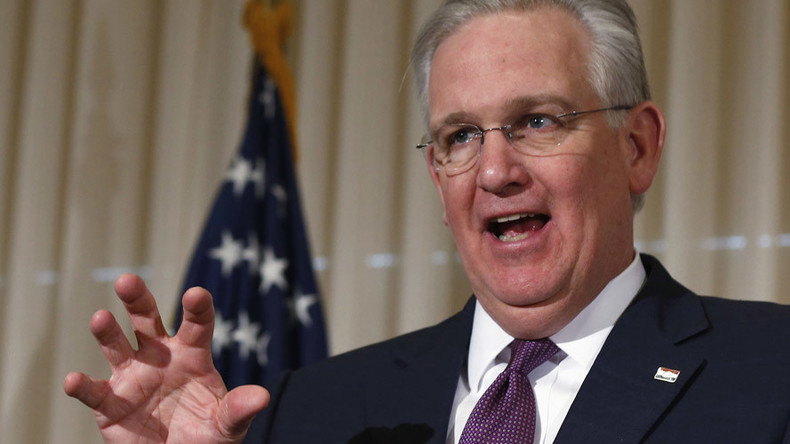 Missouri's lead public defender is frustrated with abysmal funding levels from the state. So much so, in fact, that he decided to assign a case to the official he deemed most responsible for his agency's strife: Governor Jay Nixon.
Citing a state statute that allows him to "delegate the legal representation of any person to any member of the state bar of Missouri," the director of the state's public defender system, Michael Barrett, delegated the case of a man facing assault charges without the means to pay for an attorney to Missouri Governor Jay Nixon.
The governor is fighting the appointment.
"It is well established that the public defender does not have the legal authority to appoint private counsel," Nixon spokesman Scott Holste told the St. Louis Post-Dispatch on Thursday.
Nixon claimed that Barrett could not appoint another attorney without that attorney's consent and also defended his budgeting, saying that Barrett's agency had received a 15 percent increase in funding.
However, that may not be enough to get out of the appointment. Riley Bock, chairman of the public defender commission, told the Post-Dispatch that it's going to prove difficult for Nixon to ignore.
This marks the first time that Barrett has delegated a case to another attorney.
In an interview with the Post-Dispatch, he said, "providing counsel to poor people who face incarceration is the obligation of the state. It's not fair to go after private attorneys who are trying to pay the rent when they had nothing to do with contributing to this."
While Nixon is a Democrat, his policies are fiscally conservative. For example, in June, the legislature awarded the public defender system $4.5 million in increased funding. While that was a far cry from the $23.1 million that officials with the public defender's office requested, it was also a far cry from the $1 million increase Nixon recommended.
The office employs over 370 attorneys, and the $4.5 million in additional funding will also be used for hiring 10 additional employees and contracting private attorneys as well. While 10 new employees is better than nothing, it is nowhere near the 270 more attorneys that the Post-Dispatch found would be required to meet the current caseload.
That is, if the funding ever reaches the agency. A lawsuit from Barrett and the Missouri State Public Defender Commission claims that Nixon has withheld $3.5 million of that increase.
Bock explained, "it's been within the governor's power to resolve this problem and he's just chosen not to," adding, "I think this is important to the Missouri judicial system."
Although funding is allegedly being withheld, the caseloads aren't. The Post-Dispatch reported that the state public defenders' caseloads have increased by 12 percent over the past year, resulting in each lawyer handling 125 to 200 cases at one time.
Bock summarized the entire situation, saying, "I didn't sign up for this."