Ferguson protesters' $41.5mn lawsuit against police dismissed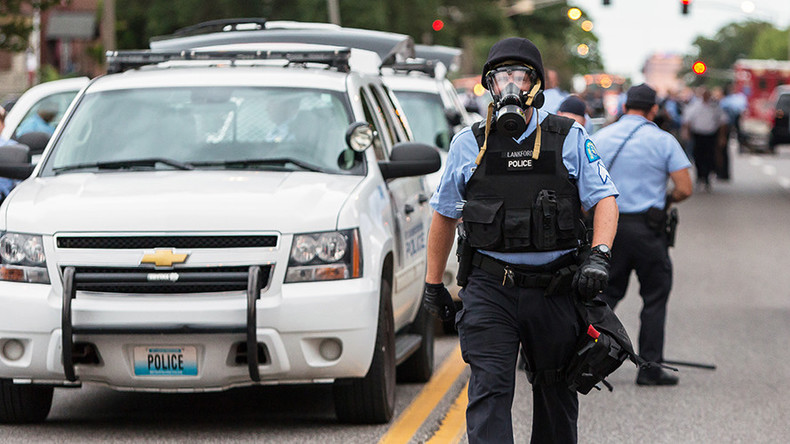 A lawsuit from Ferguson protesters against the police, city and county has been dismissed by a federal judge. He ruled the plaintiffs had not presented evidence that police had behaved maliciously during protests over the death of Michael Brown.
The $41.5 million lawsuit against Ferguson Police, the city of Ferguson and the St. Louis county was dismissed on Monday by Judge Henry Autrey. It was filed on behalf of Tracey White, Dwayne Anton Matthews Jr, Damon Coleman, Theophilus Green and Kerry White, who all took part in protests in August 2014 over the killing of 18-year-old Michael Brown.
Autrey also ruled that the individual police officers in the case would be given immunity in other cases.
In a 74-page ruling, Autrey wrote: "At the time of the events detailed herein, the atmosphere surrounding the arrests was extremely intense and had turned violent," and police "clearly had argued probable cause to arrest any individual" that did not comply.
Autrey, a federal judge since his appointment in 2002 by President George W. Bush, wrote that "no genuine issue of material fact exists and the moving party is entitled to judgment as a matter of law."
Autrey found faults in numerous aspects of the litigants' claims, such as Tracey White who claimed that she was thrown to the ground in an arrest outside of a McDonalds while her teenage son was arrested inside the restaurant while trying to retrieve an iPad from White. Based on video taken at the scene, White was arrested while standing in a crowd that refused to back up or disperse. In addition, her son was seen walking with the iPad and was arrested afterward.
"The fact of the matter is she was arrested for no reason," Gregory Lattimer, an attorney with the lawsuit, told the Washington Post.
Other issues that were found included the named officers not having use of less-lethal projectiles that other protesters accused the named officers of using against them, such as rubber bullets, pepper balls and bean bags.
The plaintiffs have appealed the ruling.