Florida corrections officer fired after tasing spitting inmate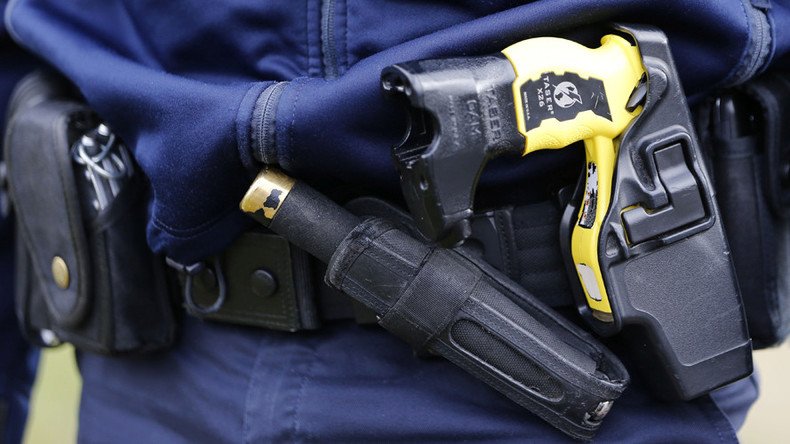 A corrections sergeant with the Leon County Sheriff's Office in Tallahassee, Florida was arrested and fired from his job for improperly deploying a Taser on an inmate who had spit on the officer and a jail nurse.
The Leon County Sheriff's Office (LCSO) arrested Corrections Sergeant Derrick Adams, an LCSO employee since 2004, for a use-of-force incident that occurred on Monday at the Leon County Jail.
Adams, 48, was escorting an inmate who was "demonstrating irrational behavior,"according to the LCSO, to a jail medical unit in order to secure the inmate to a restraint chair. At some point in the transfer, the inmate spit in the officer's face. Adams responded by grabbing the inmate and pushing him against the wall, asking, "You got a problem?"
The inmate was eventually restrained to the chair, the LCSO said. Officers retrieved a "spit mask" for the inmate, which is designed to protect officers and other employees from an erratic or ill inmate. A spit mask is standard protocol in such situations, the LCSO said.
When provided the mask, Adams refused it, saying that if the inmate spit again, he would just use his taser on the man.
The inmate then spit on a nurse checking him while in the restraint chair. Adams then removed his taser and pointed it at the inmate, reportedly saying to the inmate, "Do it again," several times. The inmate then spit towards Adams, who tased the inmate in the chest. A spit mask was then put on the inmate, the LCSO said.
LCSO Sheriff Walt McNeil expressed dismay at the incident, saying it did not represent "the great work" conducted by his employees.
"The care and custody of inmates, in the Leon County Jail, is a primary responsibility of this office," McNeil said.
"The Leon County Sheriff's Office takes this charge seriously and does this on a daily basis. When an incident like this happens it tarnishes the great work these men and women do everyday. However, this type of behavior will not be tolerated from our employees."
It is unclear whether Adams has an attorney.
You can share this story on social media: