Texas police knock woman out of wheelchair, Taser her while handcuffed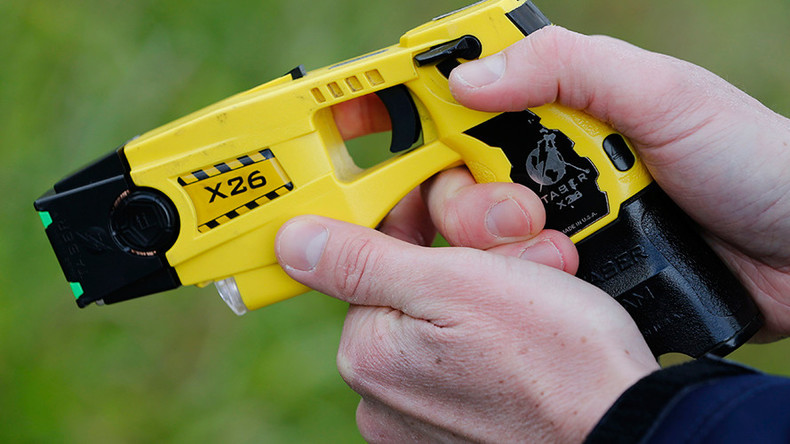 Deputies with the Harris County Sheriff's Office twice shocked a woman in a wheelchair with a Taser, once when she was on the ground and handcuffed. The sheriff's office is investigating its own deputies' use of force in the case.
On Wednesday, November 16, Sheketha Holman, a 36-year-old woman who has used a wheelchair for the past two years due to a lower back injury, arrived at the scene of her daughter's arrest at a gas station in Harris County, Texas. Holman immediately began recording deputies involved in the arrest, verbally engaging with the deputies present. The events were also recorded by surveillance video, which was obtained by KTRK.
At one point, a deputy grabbed Holman's smartphone and threw it in the car in which she arrived. She then resisted deputies' attempts to corral her hands. A deputy eventually used a Taser on her. The Taser's shock sent her out of her wheelchair and to the ground, where she was later shocked again after she was handcuffed.
She told KTRK that the officer "was like, 'Oh, she don't want to follow directions, she's resisting, I'm gonna Taser you!'" She was charged with trespassing and resisting arrest, and was held at the Harris County Jail for three days.
"It's bad what happened to me and whatever, but I feel like once the word is out, then they won't be so quick to attack people like that," Holman told KTRK.
The Harris County Sheriff's Office told KTRK that it has opened a department internal affairs investigation into the matter.
"When the investigation is complete, if any policies and procedures were violated, then disciplinary actions will be implemented, which may be suspension and/or termination," said senior deputy Thomas Gilliland, according to KTRK.
Holman is calling for the officers responsible for her treatment to be punished for their actions.
"I feel like [the officers] used the law to abuse a disabled person who can't fight back," she said. "I think they should be punished."
In May, a lawsuit was filed alleging that the Harris County Jail, formerly under investigation by the US Department of Justice for its treatment of inmates, ran a detainment system that jails people too poor to pay bail.
From 2009 to 2015, 55 people held in the Harris County Jail, the third-largest jail system in the US, who could not pay bail have died while waiting for trial, according to the Houston Chronicle.