Charlie Sheen defends tweet wishing death to Trump; says he was talking to God
Published time: 30 Dec, 2016 08:40
Edited time: 31 Dec, 2016 11:43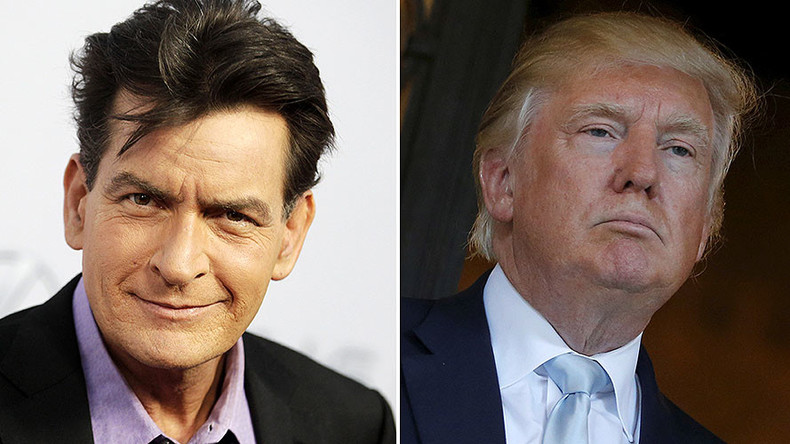 Actor Charlie Sheen has defended a controversial tweet in which he apparently wishes for Donald Trump to be the next person struck by the 2016 celebrity death curse, contending that his much-decried message was intended for God, and not the Twitteratti.
Sheen received massive backlash for posting a tweet following the deaths of mother and daughter star actresses, Debbie Reynolds and Carrie Fisher, that called on God to 'take' the president-elect next.
Among the more high profile names to take issue with Sheen's 'prayer' were CNN's Jake Tapper and Fox News Channel's media pundit, Howard Kurtz.
Even Senator Ted Cruz, Trump's former rival for the Republican presidential nomination, added his two cents to the debate on the celebrity's tongue-in-cheek tweet.
Twitter went into meltdown as the masses blasted Sheen's tweet as tasteless and unpatriotic, while some fired back with remarks about the HIV infected actor's personal life.
Others pointed out that there was hypocrisy in some of the outrage, with one user accusing Trump fans of threatening and wishing death on Hillary Clinton.
Sheen appears to have taken the furor in stride, however, taking to Twitter on Thursday to post a somewhat wordy response criticizing the media's over the top reaction.
READ MORE: Golden girl: GoFundMe page set up to 'protect' actress Betty White from 2016 celebrity death curse
The actor attached a snapshot of his reaction to the social media site, probably after realizing that Twitter's character limit would not allow for his thesaurus laden response, which included terms such as "panoramic timorousness" – that's widespread fear to the rest of us.
Sheen snarkily concluded "oh, and by the way, i was talking to God, not you."
One Twitter user had this piece of advice for the contentious star – next time send God a direct message.