Golden girl: GoFundMe page set up to 'protect' actress Betty White from 2016 celebrity death curse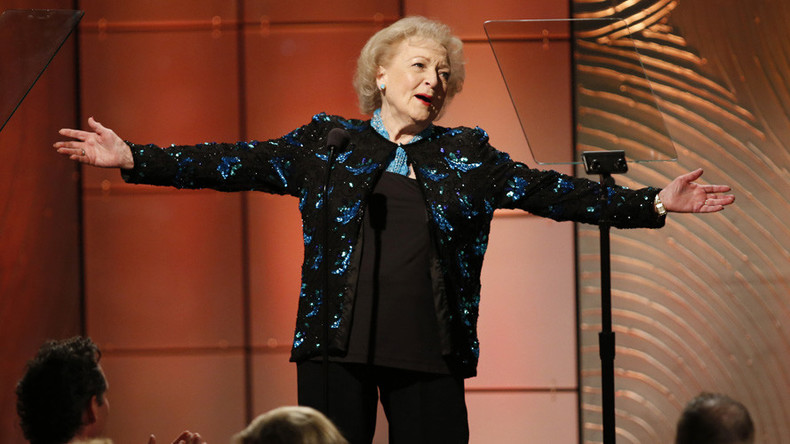 A South Carolina man has achieved a $2,000 GoFundMe target he claims is to help protect US actress Betty White from the apparent 'celebrity death curse' of the year 2016.
The legendary star began her career back in the 1949 series 'Hollywood on Television', before going on to win multiple Emmy Awards for her roles in 'The Mary Tyler Moore Show' and 'The Golden Girls'.
The actress also currently holds the Guinness World Record for the longest television career for a female entertainer.
READ MORE: 'Dear 2016, f*** you!' Social media reacts angrily to string of celebrity deaths
But with the death count of many of the world's much-loved celebrities piling up over the past 12 months, including both Star Wars icon Carrie Fisher and pop legend George Michael just this week, a fan of White has set up a bizarre campaign to 'protect' the soon-to-be 95-year-old.
According to Fox 31, Demetrios Hrysikos began the GoFundMe page to help stop 2016 "if it goes anywhere near Betty White."
In a post on the page, Hrysikos initially said the $2,000 target would go towards flying to White's location in an effort to "keep her safe till Jan 1, 2017."
today i learned that there is a gofundme raising money to protect betty white from 2016

— bransk (@avxlanche) December 28, 2016
Dear 2016,

If you take Betty White from us this year, we will riot.

Sincerely,
The Human Population

— Cloyd Rivers (@CloydRivers) December 27, 2016
Guys..

2016 is so bad..

That there's a go fund me to protect Betty white.

— unapologetic bitch (@unapologetiicb_) December 28, 2016
He added that if she declined his help, he would donate the money to local theater in Spartanburg, South Carolina.
Hrysikos has since updated the page, expressing his disbelief that the campaign has gone viral and reiterating that any funds will go towards the Spartanburg Little Theatre.
"Firstly, I'd like to thank everyone who has donated and shared so far. Thank you so much," he said.
READ MORE: So you think you know 2016? Test yourself with RT's jumbo 'Quiz of the Year'
"The idea came to me after news of Carrie Fisher's passing to try and put a smile back on some people's faces and do some good. Other than liking to support our local arts and having a friend who works at the little theater I don't have any connection to it, I just thought it would be a good place for any money made to go.
"I'd like to think that Betty, Carrie and Bowie would be happy with any proceeds going to that cause," he added.
A series of high-profile stars have passed away over the past 12 months. The growing list of obituaries includes David Bowie, Prince, Muhammad Ali, Anton Yelchin, Gene Wilder and Alan Rickman.