Blizzard, ice cripple Great Plains, leaving thousands without electricity (PHOTO, VIDEO)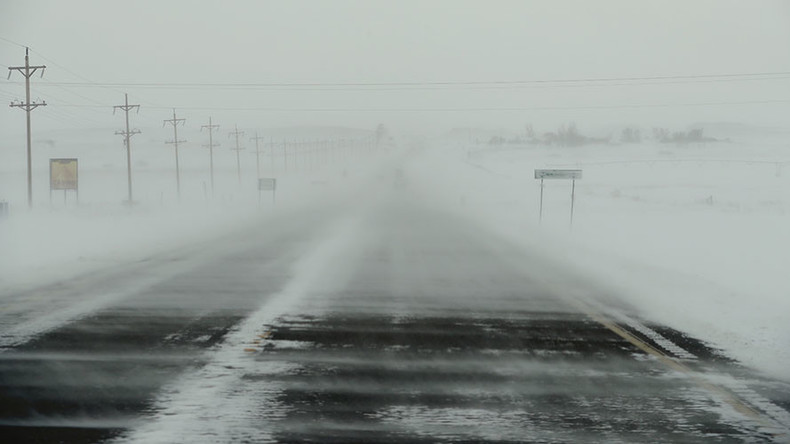 Snow, freezing rain and up to 50 mile an hour winds continued into Monday in the Great Plains, as the harsh winter weather forced airport closings, power outages, and shut off long stretches of highway in the Dakotas.
In North Dakota, weather conditions and near-zero visibility compelled a no-travel warning, as the National Weather Service said a blizzard warning would remain in effect for much of the state through Monday afternoon.
"It will take many days to get this snow cleared out,"said Jeff Heintz, North Dakota's director of public works.
Power outages have been reported across the region, especially in North and South Dakota, as well as Nebraska, where high winds have reached 70 miles per hour. Nearly 20,000 customers of the South Dakota Rural Electric Association were without power as of Monday afternoon, according to AP.
The North Dakota Transportation Department closed 240 miles of Interstate 94 on Sunday evening while no-travel advisories were issued across the state. In South Dakota, authorities shut down 260 miles of Interstate 90.
Flight delays and cancellations have occurred at Minneapolis-St. Paul International Airport in Minnesota and Minot International Airport in North Dakota, as well as airports in Fargo, Hector, and Bismarck, North Dakota.
The National Weather Service in Grand Forks, North Dakota, reported near-zero visibility and wind gusts of up to 45 miles per hour in the eastern region of the state.
As of early Monday morning, Bismarck has received more than 12 inches of snow, according to the National Weather Service, while Underwood, North Dakota, got 18 inches of snow, the Weather Channel reported.