Superior fog: Menacing misty wall blankets largest of Great Lakes (VIDEO)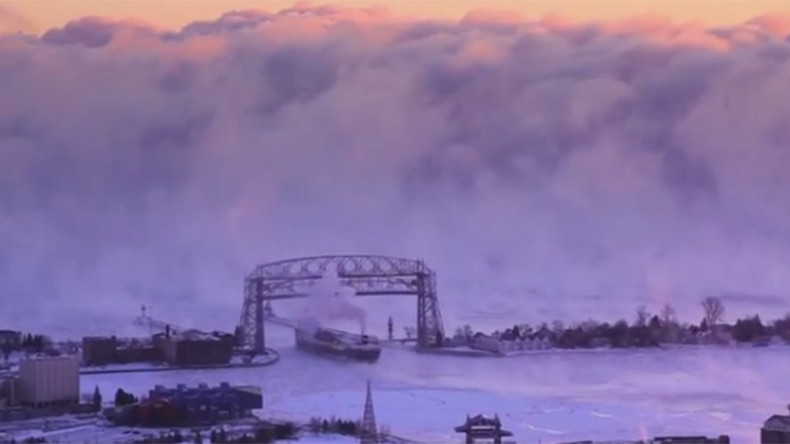 In a rare atmospheric phenomenon, an enormous wall of icy fog has been filmed billowing over Lake Superior in Minnesota.
The fog was filmed by local photographer Levi Drevlow on December 18, and it looks like something out of a disaster movie, dwarfing a freighter in the port of Duluth as it fearlessly steers straight towards the snowy fog bank.
While scary-looking, the cloud is actually quite natural, the result of a quick temperature drop to -18 Celsius (about -0.4 Fahrenheit). The difference between cold air and warm water is what sent the dense vapor hundreds of feet upwards above the largest of North America's Great Lakes.
The fog itself is harmless (apart from covering sailors in hoarfrost head to toe). It is, however, a harbinger of more dire weather.
READ MORE: Chilly Chi-Town: Chicagoans bemoan cold weather, calling it Chiberia
According to meteorologists, Minnesota and neighboring states are in for severe blizzards on Christmas Day. Heavy snowstorms, thunderstorms and periods of freezing rain will hamper travel along interstate highways and may cause aerial delays. Power outages are also expected.
Apart from Minnesota, the extreme weather on Saturday and Sunday is expected to hit Montana, Wyoming, both Dakotas, Nebraska, Wisconsin and Illinois.