Billion-dollar man-made and natural disasters of 2016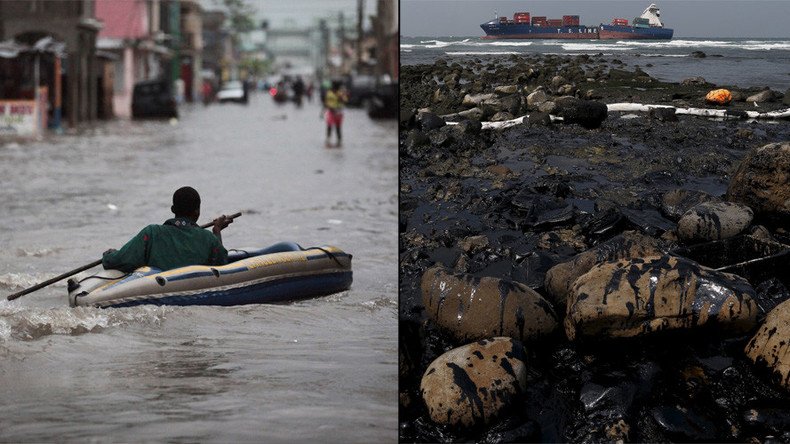 Severe storms causing flooding topped the list of natural disasters in 2016, each one leaving behind billions of dollars in economic damage, and loss of life. Water-submerged shopping malls, homes, roads and cars became the leitmotif.
Man-made disasters also made news headlines from water pollution to gas and nuclear waste leaks.
NUCLEAR LEAKS
Indian Point, New York
The year began with a groundwater leak at the Indian Point nuclear plant, when three monitoring wells were discovered to contain "alarming levels of radioactivity," after the operator Entergy Nuclear Operations raised the alarm.
New York Governor Andrew Cuomo called it "unacceptable," and said that one of three wells in question had "radioactivity increasing nearly 65,000 percent." Cuomo has repeatedly called for the shutdown of the plant.
The groundwater wells had no contact with any drinking water supplies, according to the plant's operators who said the spill would dissipate before it reached the Hudson River.
The leak was the latest emergency at Indian Point, which has experienced nine technical problems in the past year or so. Four of them were serious enough to shut down the entire plant.
In June, a nuclear reaction unit at the plant was shut down to repair a water pipe that had been leaking "a small amount of Hudson River water."
The 40-year-old nuclear power plant, situated 25 miles north of New York City and within 50 miles of 20 million residents, supplies about 30 percent of the Big Apple's energy. The site includes two operating Westinghouse pressurized water reactors – Indian Point 2 and Indian Point 3. The plant has also permanently shut down the Indian Point 1 reactor.
The facility's initial 40-year license expired in December 2015, but the US Nuclear Regulatory Commission issued Entergy a temporary extension pending final approval.
Hanford, Washington state
Chemical vapors at the Hanford Site nuclear facility in Washington state sickened 20 workers causing an evacuation and work stoppage in late April.
Hanford tank workers were performing routine tasks at the vast nuclear waste site when they started complaining of headaches before being sent for medical evaluations, local news station KING reported.
The exposure came a week after thousands of gallons of radioactive waste reportedly leaked from the AY-102 double-shell tank.
A KING investigation found that workers in 50 separate incidents were exposed to vapors leaking from the nuclear waste tanks between January 2014 and April 2015. In one of the incidents, a worker was treated for chemical pneumonitis, an inflammation of the lungs caused by chemical exposure.
Hanford Nuclear Reservation was originally constructed in 1942 as part of the Manhattan Project to produce plutonium for weapons, including the 'Fat Boy' atomic bomb that was dropped on Nagasaki, Japan. Millions of gallons of nuclear waste was generated by the time production stopped at the end of the Cold War.
GAS LEAKS
Mid-year, the Environmental Defense Fund published a study that found hundreds of methane leaks from Boston to Dallas. Using gas sensors on cars during a 30-day period, they tracked methane gas emissions in nine participating cities, including Boston, Massachusetts; Chicago, Illinois; Dallas, Texas; Jacksonville, Florida; and Los Angeles, California.
A map for Dallas showed dots of yellow, orange and red. Yellow dots meant the methane leak was low, orange indicated a medium-sized leak, and red dots showed large leaks.
While such leaks don't pose immediate health hazards, the emissions are not good for the environment. Methane is 84 percent more potent than carbon dioxide and makes up about 25 percent of all emissions. Apart from the environmental destruction, there is a cost to residents.
"This is absolutely not a safety issue," Jennifer Altieri, an Atmos spokeswoman told the Dallas Morning News. "We really don't want to scare the public."
OIL LEAKS
There were 354 total hazardous liquids pipeline spills by the end of November, according to the Pipeline and Hazardous Materials Safety Administration (PHMSA). The percentage of spills released were higher this year compared to other years, with 16 percent of leaks involving 100 or more barrels of product.
North Dakota
Crude oil pipelines were central to the massive outdoor sit-in started by Standing Rock Sioux Tribe in North Dakota over the route of the Dakota Access Pipeline (DAPL).
Frustrated that the Army Corps of Engineers had fast tracked permits for the pipeline to be constructed under the Missouri River near their lands, they took the Corps to court and began to fight back. By December the Army Corps of Engineers agreed to deny Energy Transfer Partners, the construction company, a permit to build the pipeline under the Missouri River.
The same month, illustrative of how disasters can happen, a pipeline 150 miles (241 km) from the DAPL protesters' campsite leaked 4,200 barrels of oil, about three-quarters of which reached the nearby Ash Coulee Creek that feeds into a tributary of the Missouri River, according to Reuters. The Missouri River is a major source of drinking water for the area.
The leak was contained but wasn't detected earlier due to an unknown error with the electronic monitoring equipment.
Alabama
On September 9, a portion of the Colonial Pipeline was damaged, and 336,000 gallons of refined gas seeped out of the service line into the ground. Oil prices in the Southeast US surged, and motorists endured long lines and shortages after the leak left the pipeline out of service until late September. The disaster was largely contained, as gasoline was released into a retention pond. There were no deaths or injuries related to the leak.
Two months later, an accident on the very same Colonial Pipeline resulted in disaster and, unfortunately, tragedy. Six workers were on the pipeline when a dirt-moving track hoe struck it, creating a massive fire that left one worker dead at the scene. Another later died of his injuries, and the four other workers were hospitalized. None of the names of people involved have been released, per the Occupational Health and Safety Administration (OSHA).
This explosion released 252,000 gallons of refined oil, and occurred just a few miles away from September's leak. It also resulted in increased oil prices across the Southeast.
Louisiana
A fire caused by manufacturing defects in Louisiana resulted in about 208,000 gallons of propane being burned on February 24. Dixie Pipeline was able to cap the fire quickly, but that left about 8.5 miles of pipe that had to "bleed out," KPLC reported. There were no deaths or injuries resulting from the leak or fire, and as a result, it occurred quietly with little incident or coverage.
Oklahoma
The Enterprise Pipeline carries 400,000 barrels of crude oil per day from storage hubs in Oklahoma to refineries on the Gulf Coast. In October, however, a pipeline ruptured and sprayed the area with crude oil, a known cause of chemical pneumonia.
There were no injuries or evacuations, so the spill was quietly cleaned up after it leaked more than 300,000 gallons of crude oil. The pipeline had experienced problems less than a month earlier, according to UPI. Plains All American Pipeline had also reported infrastructure based problems in early October.
Texas
The worst oil leak of the year was at Sunoco Logistics just outside of Sweetwater, Texas, when 800 barrels of crude oil leaked in September. Sunoco is the operator of the Dakota Access Pipeline. The company has been previously recommended for fines as high as $1.3 million for violating welding practices on the line.
The pipeline, which began service in mid-2015, moves crude from the Permian Basin to Corsicana, Texas, where it can connect to the Gulf Coast.
WATER POLLUTION
In September, footage surfaced of a 45 foot massive sinkhole at the Mosaic phosphate fertilizer plant in Polk County, Florida.
About 215 million gallons of water containing sulphate, sodium and gypsum (which contains low levels of radiation) had drained into the aquifer, the state's main source of drinking water, the Tampa Bay Times reported.
Mosaic claimed there was no risk to the aquifer.
"Groundwater moves very slowly," David Jellerson, Mosaic's senior director for environmental and phosphate projects said. "There's absolutely nobody at risk."
The world's largest phosphate mining company said it had been draining the contaminated water from the aquifer.
Americans were equally hit by natural disasters.
The National Centers for Environmental Information is the nation's scorekeeper for severe weather and climate events, which it evaluates for economic and societal damage.
There were 12 weather and climate disasters in 2016, each one with losses exceeding $1 billion. The four flooding and eight severe storm events lead to the deaths of 68 people, as well as significant economic damage on the affected areas.
In the last five years, the number of such events has doubled compared to when the agency began evaluating events in 1980
Missouri's severe storms and flooding
The year began with drone footage capturing the results of severe storms from the end of December and early January, which caused three of Missouri's major rivers to burst their bank and resulted in extensive flooding.
Sixteen states issued emergency weather warnings and flooding claimed the lives of at least 31 people.
Visiting the affected-communities of Eureka and Cape Girardeau, Missouri Governor Jay Nixon described the damage as "almost as if you are living on some other planet."
The Mississippi River was 40 feet (13 meters) over the flood mark at one stage, while 17 million people faced imminent danger.
President Barack Obama signed an emergency declaration, allowing federal aid to be used in the clean-up operations.
Texas' four floods
On four separate occasions in March and April, residents across Texas were hit with severe storms, including hailstorms, leading to floods.
While footage of water-submerged cars, roads, homes and shopping malls are the hallmark of all floods, in Texas there were even photos of floating cattle.
In April, residents in Houston received as much as 20 inches of rain, causing hundreds of flight cancellations, the closure of city offices and public schools, and power outages affecting tens of thousands of buildings.
Flash flood watches were in effect for much of central and eastern Texas, including Houston, Austin, San Antonio, Fort Worth, and Tyler-Longview, AP reported. Parts of western Louisiana and Arkansas were also included in the flash flood watches.
The costliest was a hailstorm that struck Texas in April, resulting in economic losses of $3.5 billion and insured losses of $3 billion, as large hailstones inflicted heavy damage to property.
The state experienced more floods in May.
Louisiana and Mississippi
The biggest storm and flood was in August, when heavy rains caused widespread flooding in Louisiana and Mississippi. The storm left eight people dead, and economic losses totaled $10 billion, while private insured losses were at least $1 billion.
Twelve parishes in the Pelican State were eligible for federal aid, and state police said about 30,000 people were rescued from floodwaters. In Livingston Parish, home of around 138,000 people, authorities said about 75 percent of homes were destroyed by flooding, according to AP.
You can share this story on social media: