Drug firms shipped 780mn addictive pain pills to W. Virginia as overdose deaths skyrocketed – report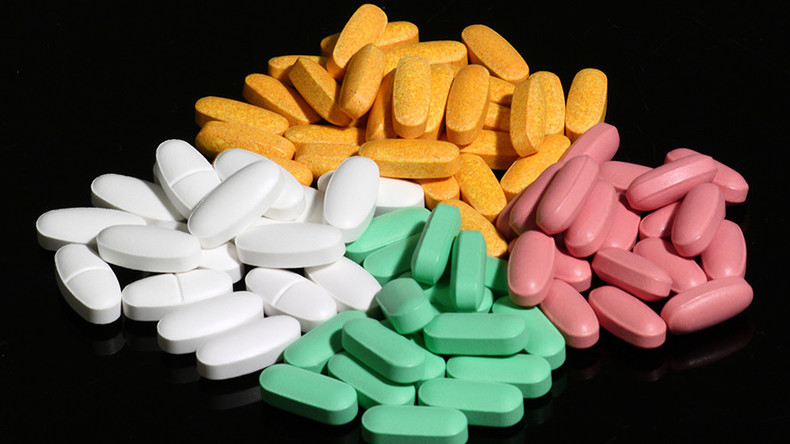 Drug firms shipped 780 million highly addictive hydrocodone and oxycodone pills to West Virginia in six years, amid a growing number of prescription-related deaths in extremely vulnerable areas. A total of 1,728 people died from overdoses in that period.
The shipments – which took place between 2007 and 2012 – equate to 433 highly addictive pain pills for every man, woman, and child in the state. The deliveries were received by small pharmacies, rather than national chains that would have been subject to tougher oversight.
A large proportion of the pills can be linked to the tiny town of Kermit, population 392, where a single pharmacy received nearly nine million hydrocodone pills over two years, according to the Charleston Gazette-Mail investigation.
Kermit is a poor, rural town in Mingo County, which happens to have the fourth-highest prescription opioid death rate of any county in the US.
Wyoming County – where the county's overdose rate leads the nation – also saw its shipments of OxyContin (a brand name of oxycodone) double, with a privately owned pharmacy in the town of Oceana receiving 600 times as many oxycodone pills as the national chain Rite Aid, located just eight blocks away.
Other affected counties include McDowell and Boone, which also rank among the top four counties for fatal overdoses caused by pain pills in the US. Another two southern counties – Mercer and Raleigh – rank in the top 10, while Logan, Lincoln, Fayette, and Monroe counties all place in the top 20 counties for fatal overdoses related to prescription opioids.
As the deliveries rolled in, the number of hydrocodone and oxycodone fatalities rose, with the state seeing a 67 percent increase in deaths between 2007 and 2012.
The shipments became more plentiful every year, seemingly mirroring how addicts require increasingly large doses to maintain the same highs. Between 2007 and 2012, the number of 30 milligram OxyContin tablets increased six-fold, 15 milligram pills tripled, and 10 milligram oxycodone pills nearly doubled, according to Drug Enforcement Administration (DEA) records sent to West Virginia Attorney General Patrick Morrisey's office.
Those previously confidential records, which show overall sales numbers from pharmaceutical wholesalers, were obtained by the Gazette Mail, despite efforts by the drug firms and their lawyers to keep the figures secret.
Ignored suspicious order reports
Pharmaceutical distributors are required to report suspicious orders for controlled substances to West Virginia's Board of Pharmacy. A section of the Code of State Rules states that orders "of unusual size, orders deviating substantially from a normal pattern, and orders of unusual frequency" must be reported.
However, the parties involved in the shipments did not follow that rule – only two reports were received by the board between 2011 and 2012, both from wholesaler Cardinal Health.
However, the Board was also negligent. Its executive director, David Potters, stated that the rule has "not been an item that's ever been enforced by the board."
The board also continued to give pharmacies exceptional inspection reviews, despite the fact that they had ordered more pills than could possibly be needed by people with legitimate conditions managing pain.
Things changed in June 2012, when former Attorney General Darrel McGraw filed lawsuits against Cardinal Health, AmerisourceBergen, and a dozen other wholesalers. The suit alleged that the companies shipped an excessive number of pills to West Virginia and failed to report suspicious orders.
Two days later, Cardinal Health began faxing in a steady stream of reports, about 40 a month. Wholesaler McKesson eventually did the same in March of 2015, one year after Morrisey began investigating the company.
However, those reports did nothing because, since the rule about suspicious orders doesn't state what the board should do with them, it simply neglected them and did not investigate. The board never contacted the wholesalers or pharmacies, and failed to pass the reports along to law enforcement. Moreover, nine months of Cardinal Health reports were apparently never filed and lost.
In what appears to be a long overdue move, the board voted unanimously last week to send letters to drug wholesalers, asking them to report suspicious orders. It plans to forward those reports to Morrisey's office.
"We need to work this," said pharmacy board President Dennis Lewis, while promising "we're going to work on it hard."
Profits & denials
Meanwhile, as prescription-related deaths increased, the wholesalers got richer. The 'Big Three' drug distributors – McKesson, Cardinal Health, and AmerisourceBergen – earned a combined $17 billion in net income between 2007 and 2012.
Although all of them have been involved in the shipments, the Big Three deny playing any role in the overdose deaths, stating that addicts and dealers only get access to the pills because doctors are writing illegal prescriptions.
Morrisey filed a suit against McKesson earlier this year claiming that the company has "flooded" West Virginia with pain pills and given bonuses and commissions to employees based on their sales performance.
However, last week, McKesson said Morrisey's suit assigns blame to drug wholesalers "without acknowledging the role played by doctors, pharmacists, and regulatory agencies that oversee doctors and pharmacists."
A spokesman for Cardinal Health took a similar stance, stating that "all parties including pharmacies, doctors, hospitals, manufacturers, patients, and state officials share the responsibility to fight opioid abuse."
The third Big Three drug wholesaler, AmerisourceBergen, has suggested that health experts and law enforcement are more qualified to determine whether there's a link between the volumes of pain pill sold and overdose deaths.
West Virginia's high overdose rates have been partly attributed to the region's unemployment rates (the second-highest in the US) and low education levels.
"Low education levels, high rates of unemployment and job-related injuries are closely linked to abuse of alcohol, illicit drugs and prescription medications," a 2009 report from the Appalachian Regional Commission stated.